Hugh Jackman's Crazy Pirate Takes Center Stage In Latest Pan Clip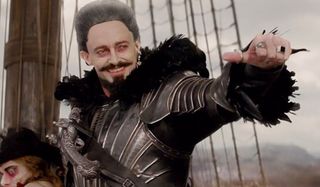 Already proving to be an innovative take on the traditional story of Peter Pan, the upcoming Pan also showcases Hugh Jackman in a villainous role as a pale, white wig-sporting rendition of the famous pirate, Blackbeard. Jackman, who trades his adamantium claws for a cutlass, personally posted a short trailer that gives us more of the sprawling, majestic cinematic magic.
In the new Pan clip provided by Jackman, his Blackbeard welcomes us to Neverland, brandishing the kind of demented, over-the-top hospitality expected from a ruthless pirate spreading tyranny over a magical fantasy land. He'd probably wine you and dine you, but would just as easily shove a dagger through your eye for looking at him cockeyed. Blackbeard serves as both our antagonist and expositional guide to the wondrous realm of Neverland. The place seems to be a well-timed escape for the film's two heroes, Peter Pan and James Hook, both of whom have some serious issues that will need resolving in the future.
Approaching J.M. Barrie's traditional Peter Pan story as an origin tale, we'll get to see the titular youth, played by Levi Miller, at a time before his childhood was never-ending. Snatched out of the dark, Dickensian orphanage in which he was forced to stay, Peter believes that Neverland could hold the answer to the definitive question in his life: Where is his mother? He's joined in his curious quest by new friends, warrior princess Tiger Lilly (Rooney Mara) and an American explorer named James Hook (Garrett Hedlund), who has both of his hands and his sanity still intact at this point. Together, they start a magical mutiny to free Neverland from the tyranical rule of the pasty, mustachioed menace, Blackbeard.
Directed by Joe Wright, we see the helmer of slick thrillers like Hanna and Atonement approach the sprawling, sublime landscape of Neverland, putting aside ambitious cinematography for awe-inspiring storytelling. With its fantastical elements of flying pirate ships and exotic landscapes dotted with topographical oddities, the film will test Wright's abilities to put together an inspiring, accessible cinematic experience for audiences of all ages. Clearly, the film is looking to separate itself from the 1954 Disney animated classic that likely defines the story for many. However, in a way reminiscent of Christopher Nolan's approach to Batman Begins, the film seems to define itself not as a prequel or even a reboot, but rather, as the new clip's song implies, "the beginning." From the look of things in this footage, that seems to be exactly what has been accomplished.
Pan looks to rescue wayward urban urchins and turn them into saviors of magical lands full of fairies and flying boats when it flies into theaters powered by imagination and Hugh Jackman's mustache wax on July 24.
Your Daily Blend of Entertainment News
Thank you for signing up to CinemaBlend. You will receive a verification email shortly.
There was a problem. Please refresh the page and try again.