The Hunger Games: Catching Fire Poised To Break The November Box Office Record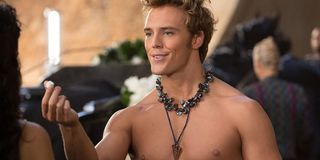 Lionsgate and Summit knew that The Hunger Games: Catching Fire would be a huge hit-- that's why they shelled out more than twice the budget of the original film for the upcoming sequel. But will it have a hard time being as big as its predecessor?. Deadline got their hands on the earliest tracking numbers for Katniss's next adventure, and if all goes well, Catching Fire would easily break the record for the biggest-ever November opening-- but not necessarily the record set by The Hunger Games just last year.
The current November record-holder is The Twilight Saga: New Moon, which made $142.8 million in its opening weekend in 2009 and shattered the record for best single day of ticket sales, previously held by The Dark Knight. The Hunger Games destroyed that record in 2012, opening to $152.5 million in March of that year; the first film in what's now a four-part series currently holds the sixth-biggest opening weekend of all time. And while Catching Fire is perfectly on track to set the November record, it may have a hard time beating the opening weekend of the original-- an odd fate for any sequel, but particularly one in a franchise that started off so small. Just look at The Dark Knight, which made triple the opening weekend of Batman Begins, or the $30 million Iron Man 2 had over Iron Man.
But the Twilight comparison is probably still a more apt one for Catching Fire, which remains a franchise more targeted at women than men and an adaptation of a relatively new literary phenomenon, not comic book characters who have existed for centuries. Catching Fire is still going to be gigantic no matter what, and that extra $60 million in the budget will be money well-spent. But if they want to boast of how much bigger it is than The Hunger Games, they might have to get to work.
Check out the latest, fairly badass Catching Fire trailer to see what will have everyone flocking to theaters come November 22.
Staff Writer at CinemaBlend
Your Daily Blend of Entertainment News
Thank you for signing up to CinemaBlend. You will receive a verification email shortly.
There was a problem. Please refresh the page and try again.