Ice Cube's Biggest Issue With Hollywood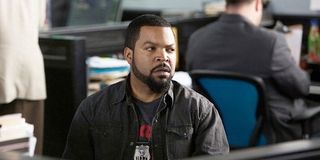 With the Academy Awards just a few days away, and the #Oscarsssowhite controversy swirling, the discussion over race, equality, and inclusion in Hollywood have been making headlines like never before. One of the biggest issues has simply been the opportunity for marginalized groups to get the chance to work in Hollywood, and according to one big player in the entertainment industry, Ice Cube, this is the problem.
Talking to The Hollywood Reporter the musician turned actor/producer/writer/director, said that Hollywood, as an industry, still has a long way to go, and that there are institutionalized roadblocks in the way of progress. He said:
One of the big focuses of the controversy over the lack of diversity in this year's Oscar nominations has been Straight Outta Compton, which chronicles, in part, Ice Cube's rise to fame as part of the hip hop group N.W.A. Though it was on many top ten lists and won a number of awards from critics groups, it only received one nomination, for Best Screenplay, and though the film is fronted by African American actors, the writers are white.
Though he himself is pushing for change, to get his chances to tackle the projects he wants, it sounds like Ice Cube has a fairly cynical, though practical outlook. Responding to the Straight Outta Compton snub earlier, the 46-year-old filmmaker basically shrugged his shoulders and said that he's neither particularly angry nor particularly shocked that the movie was left out in the cold. In his view, the people who needed to see the movie, the people they made the movie for, responded with gusto and vigor, and Compton did wind up being a huge hit at the box office.
Ice Cube cares more about making a good movie that people love than with walking away with a trophy, which, he said in the THR interview, is why he won't be attending the Oscars on Sunday. He's not boycotting, like some in Hollywood, he just never goes because that's not his thing.
There's a big protest planned for Sunday near the Dolby Theater where the Academy Awards ceremony is held, led by Reverend Al Sharpton. It will be interesting to see if that impacts the awards at all, who actually does boycott the event, or how often, if at all, the issue of race, diversity, and equality in Hollywood is brought up through the course of the evening.