Ice Cube Returns For Barbershop 3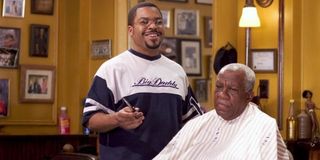 Barbershop 3? What will they think of next? Twelve years ago, Tim Story took us to a modest hair-cutting place and built a tiny low budget franchise. Barbershop was just a quiet throwaway release in 2002, opening in over 700 less theaters than the weekend's other release, Stealing Harvard. $75 million later, a movie series was born. And just like that, Barbershop has come roaring back to life.
Deadline reports that Ice Cube will sign a mid-seven figure deal to return to the 'shop, in the hopes of also re-recruiting Cedric the Entertainer and Queen Latifah. It's Crisis On Infinite Barbershops! Deadline notes that the newly-resuscitated MGM is like every other studio in that they've gone franchise crazy, working on an animated Addams Family, revisiting Poltergeist, continuing the James Bond and Hobbit stories and even jump-starting the Hot Tub Time Machine once more.
They appear to have a kindred spirit in Ice Cube, a man who never found something he couldn't franchise. Next year's Ride Along 2 is just the latest in a long line of Cube follow-ups, which also includes this year's 22 Jump Street. Cube also sequelized Are We There Yet? into a remake of Mr. Blandings Builds His Dream House entitled Are We Done Yet?, which itself led to the TV series Are We There Yet? If no one stopped him, we'd probably still be watching Cube bounce around as roly-poly special agent Darius Stone of the genuinely hilarious xXx: State Of The Union. Sadly, the one sequel people seem to want from Cube is a fourth Friday but it's uncertain as to whether PG-13 man Cube wants to revisit that milieu.
Barbershop was one of the more aggressive attempts at franchise building in recent memory, following the original with Barbershop 2: Back In Business that immediately teased a spinoff, Queen Latifah's Beauty Shop. The grosses ultimately showed a downward trend, with the second film grossing $65 million and Beauty Shop only collecting $37 million. But these were (and still are) pretty basic, cheap movies to make, centered around a crucial part of everybody's community. It's not a surprise that Cube would help bring the movies back: lightweight and largely inoffensive, they were workmanlike comedies with a certain low-key charm. Even Beauty Shop was a relatively painless experience (though it did provide a gonzo villain turn from Kevin Bacon as a rival hairstylist). Here's a look at the original Barbershop below.
Your Daily Blend of Entertainment News
Thank you for signing up to CinemaBlend. You will receive a verification email shortly.
There was a problem. Please refresh the page and try again.