Ice Cube's Ride Along Back On Track With John Leguizamo And Kevin Hart On Board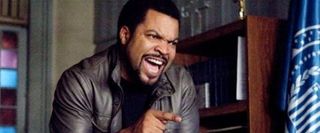 It's been nearly three years since we've heard any updates on the Ice Cube vehicle Ride Along. Back in 2009 Cube signed on to front the buddy comedy, playing an intimidating cop who looks to split up his sister's engagement with a privileged white psychiatrist (read: wimp) by taking him on a world-rattling ride along. Back then the screenplay penned by Employee of the Month scribe Greg Coolidge was getting a rewrite from a little-known improv comedian called Jason Mantzoukas. Of course, since then, Mantzoukas has proved a scene-stealer on Parks and Recreation and The League, as well as the highlight to Sacha Baron Cohen's latest politically incorrect comedy The Dictator.
This summer Universal bought the project from New Line and now THR reports Ride Along is finally back on track with news that John Leguizamo has signed on for a supporting role. But in passing the trade mentions Ice Cube will be co-starring with Kevin Hart, and the rundown of the plot makes no mention of a white brother-in-law. Instead, the sure-to-be lame white therapist is now a risk-averse grade school teacher looking to win the respect of his future brother-in-law (Cube's tough cop) by accompanying him on "a ride-along from hell." Hart will portray the nebbish fiancé, while Leguizamo will play an undercover cop—which, as an unrepentant fan of To Wong Fu, I'm hoping means he'll don drag and be on the vice beat. Think Like a Man helmer Tim Story will direct.
While the original project seemed like another lackluster comedy that would feed into tired stereotypes, this latest version of Ride Along is enticing. For one, Cube reminded us how funny he can make simmering rage in 21 Jump Street ("Stop fucking with Korean Jesus! He ain't got time for your problems! He's busy... with Korean shit!). And with the success of Think Like a Man, Hart only became more of a hot comedic commodity who has got a string of promising pics in the works, including the About Last Night remake, and Valet Guys with Kevin James.
But it's the Mantzoukas factor that has me the most excited about this project. This is his first screenplay credit, but as a regular listener to his movie reviewing podcast How Did This Get Made?, I'm well aware of the bearded comedian's knowledge of filmmaking and story structure as well as his wild brand of humor. In short, with this cast and scribe Ride Along could turn out to be of the funniest features of 2013.
Your Daily Blend of Entertainment News
Staff writer at CinemaBlend.