Idris Elba Plans To Bring Luther To The Big Screen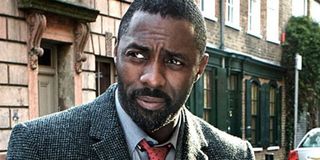 Whether you live in the United States or the United Kingdom you've been offered plenty of opportunities to get to know Idris Elba. The acclaimed actor and wildly handsome Englishman has made memorable appearances on the U.S.-version of The Office as the humorless but debonair Charles Miner, and as Russell 'Stringer' Bell on everyone's favorite drama series The Wire, as well as in such tentpole sci-fi epics as Prometheus and Pacific Rim. But to date, Elba has won the most critical praise for his work on the BBC series Luther, and now the TV star turned movie star will be bringing his cantankerous, rule-breaking cop to the big screen.
Luther creator Neil Cross told Mirror that the Golden Globe-winning series that recently revealed its third and final season is being translated into a film, which ought to appeal to fans of the series as well as those who haven't yet come across it. (Those poor bastards!) Rather than picking up where season three ended, Cross told the assembled audience at the Edinburgh TV Festival that the Luther movie would play as prequel to the series. That means some characters from the show, who wouldn't have been around for a movie that followed season three, are now back in the game.
"It will follow his career in the earlier days, when he is still married to Zoe," Cross explained, "And the final scene in the film is the first of the initial TV series." In the series, Luther is estranged from but still deeply in love with his wife. The movie will show us more of the before of their relationship, meaning actress Indira Varma will be on board alongside Elba. Also expected to be back are Luther's old partner Ian Reed (Steven Mackintosh), and his sidekick Justin Ripley (Warren Brown). Sadly, the prequel nature of the picture means one fan-favorite character—the smiling sociopath Alice Morgan (Ruth Wilson)-- cannot be involved.
Cross also shared that he has the script written and hopes to roll into production next year. In the meantime, fans of Elba will be able to see him in the buzzed about biopic Mandela: Long Walk to Freedom. And if you haven't already gotten into the brooding and gruesome glory of his Luther, check out seasons one and two on Netflix now. Below is just a taste, as well as a glimpse of the scene Cross mentions above:
Your Daily Blend of Entertainment News
Staff writer at CinemaBlend.