Illegally Downloading Dallas Buyers Club May Cost Fans A Ton Of Money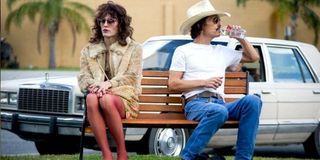 Anyone who downloaded Dallas Buyers Club illegally in Australia might have to cough up a hunk of cash after a landmark court ruling down under. It could even have drastic implications on illegal downloading and file sharing across the globe.
According to the Courier Mail, the studio went up against iiNet, as well as several other companies, including Internode, Adam internet, Amnet Broadband, Wideband, and ISP's Dodo, in court as they wanted to be provided with the the IP addresses that shared Dallas Buyers Club illegally. Nye Perram, the Federal Court Justice who oversaw the case, revealed on Monday that she ruled in favour of Dallas Buyers Club LLC.
Dallas Buyers Club LLC, who own the rights to the Oscar-winning biopic, have found 4726 IP addresses that participated in the downloading. They will now be provided with the contact information of those who perpetrated the crime and will also be able to pursue them for reparations. Dallas Buyers Club LLC could soon have at their disposal the names, email addresses, and actual home addresses of those who committed the breach. iiNet are yet to confirm whether they will appeal the decision, which could have a huge impact across the globe, but if they decide to, they only have 28 days to act.
Dallas Buyers Club LLC used MaverickEye, a German software tool, to locate the details of torrent users who were downloading the film. This led them to the collection of the IP addresses, though the studio insisted that they could gather a further 6,000 names if they ran the system again.
Those who will possibly be affected by the ruling "seeded" Dallas Buyers Club, which means that it became available to others downloading it on a peer-to-peer network. Justice Perram also decided not to place a restriction on the amount that Dallas Buyers Club LLC can ask for. The next step will see the company send out letters detailing the compensation they expect to receive to the addresses they now have in their hands.
Before Justice Perram made her decision, iiNet tried to block Dallas Buyers Club LLC's attempt to send letters to those who downloaded the film asking for compensation. They were alarmed at the "speculative invoicing" that the studio made when calculating the money owed to them, and they were hopeful that this protest tactic would ultimately avoid a court case. This is a maneuvre that was used during similar illegal downloading cases in the United States of America, but, this time, it failed.
Dallas Buyers Club was one of the most critically acclaimed films of 2013, and it resulted in its leading thespians, Matthew McConaughey and Jared Leto, winning the Best Actor and Best Supporting Actor Oscars, respectively, at the Academy Awards. Meanwhile, its $5 million budget was more than matched by its $55.2 million box office, but those of you who contributed to that have nothing at all to worry about.
Your Daily Blend of Entertainment News
Your Daily Blend of Entertainment News
Thank you for signing up to CinemaBlend. You will receive a verification email shortly.
There was a problem. Please refresh the page and try again.