New Image Shows Off Thor's Guns And Civilian Clothes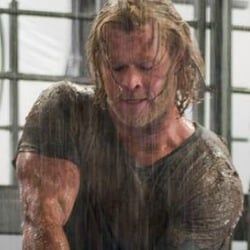 All the chatter since the first official Thor image was released has been about the costumes-- how Anthony Hopkins' eyepatch stays up all by itself, whether or not he armor is silly, and the nagging fear that the mythological superhero story might look more like Conan the Barbarian than Iron Man. While we're still feeling pretty iffy about the costumes, Marvel has done a little spin control by releasing a new image of Thor in USA Today, this time wearing good old civilian clothes.
The image comes as part of the obligatory pre-Comic Con piece that every major entertainment source is running this week (us included), but they've got Thor director Kenneth Branagh and Thor himself Chris Hemsworth as part of the deal. Apparently the Marvel team has been prepping him for Comic Con since the beginning, and even Hemsworth admits he's a little afraid of the fans: "It's a bit scary, the power and devotion they have."
You know what's scarier, though? The ridiculous guns Hemsworth is showing off in the new photo, not to mention the giant hammer, which thus far has been a staple of every Thor promotional shot. Check out a larger version below and click on it for USA Today's high-res version and the whole article. We likely won't see any more from Thor until the big Marvel panel on Saturday, but muscles like that should be plenty to tide you over until then.
Your Daily Blend of Entertainment News
Staff Writer at CinemaBlend