The Important Character The Goonies 2 Plans On Bringing Back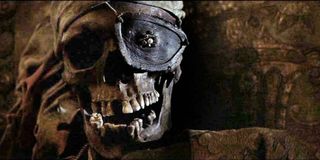 The oft-discussed The Goonies 2 is one of those projects that we won't really believe in until it's actually playing in a theater near us. Key cast members, and even director Richard Donner, have discussed the projects at varying stages over the years (really, we have been covering it for a while now), so we take each new update with a grain of salt. This latest comes from a reliable source – aka, Mr. Sean Astin – so we trust it. We just don't know how far we're willing to go with this one.
Sean Astin, who of course played Mikey in the original The Goonies has been one of the most consistent supporters of The Goonies 2 over the years. He has teased that the sequel might be an adventure for the older members of the team, who'd now be adults. He has hinted that it might involved the children of the "Goon Docks" kids. Anyway, over the weekend while speaking at Phoenix ComicCon 2016, Astin dropped this hint, via YouTuber TomFoolery.
There you have it. The pirate who inspired the first adventure, whose "rich stuff" triggered the treasure hunt to save the Good Docks in the first movie, will play a part in The Goonies 2. You know, if and when that sequel ever happens.
How might this be possible? At the end of the original movie, the Goonies set off a series of booby traps and explosions that release One-Eyed Willy's pirate ship from the cave where it had been trapped for decades. With the kids watching from the shore, Willy's ship sails away. The sequel, we're not left to assume, will have something to do with the ship… returning? Willy is a skeleton, so it's not like he's doing anything to bring the ship back into Mikey's life. I wonder how they are planning to pull this off.
Now, Sean Astin's comments do confirm one bit. They tell us that if The Goonies 2 were to happen, that the older members of the team will return. Or, Mikey, at the very least. But why would you do The Goonies 2 without bringing back as many members of the original squad as possible. That would require Corey Feldman, Josh Brolin, Kerri Green, Jeff Cohen, Martha Plimpton, and Jonathan Quan, though all have expressed interest in returning at different stages of this discussion.
What do you think? Is Sean Astin beating this drum all by himself? Or did he just reveal a spoilery plot point from a The Goonies 2 screenplay that we might see on the screen one day?
Managing Director at CinemaBlend. ReelBlend cohost. A movie junkie who's Infatuated with comic-book films. Helped get the Snyder Cut released, then wrote a book about it.