Independence Day 2 Is Missing The Most Obvious Marketing Opportunity Ever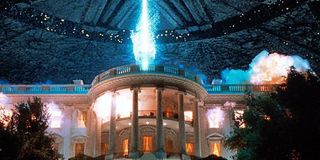 Imagine yourself in the future. It's 2016. It's summer, Fourth of July is just around the corner with its promise of fireworks and a long lazy weekend. Maybe a friend asks you, "What are you going to do for Independence Day?" Where once you may have grinned and smiled, "I'm hitting Independence Day 2 opening weekend," that is no longer possible.
Independence Day 2, a movie you might think demands to open on the big movie-going holiday that it is named for will no longer debut on July 4th weekend.
Box Office Mojo has revealed that Independence Day 2 has been bumped from its original release date of July 1st, 2016--the Friday before July 4th hits on Monday--to June 24th, 2016. It may not seem like a big shift, but it's a bad omen for Hollywood watchers. July 4th is a destination where big, bold action spectacles have long been placed. In 1996, Independence Day took a stand on that weekend. The following year, Men in Black hit then, its success earning Will Smith the title of Mr. July. But more than the expectations tied to that weekend is the obvious marketing tie-in of opening a movie called Independence Day 2 so close to the holiday it's named for!
Fox isn't speaking out on why the sequel to Independence Day is shuffling to June. So let's take a look at what could be the reason. First off might be helmer Roland Emmerich, who is nowhere near the draw he once was. Mostly, the dent in his reputation came because of his ill-thought out follow-up to Independence Day, that New York City-set Godzilla. This box office disappointment has grown only in infamy, being discarded for a gritty reboot. Since then, be it The Patriot, The Day After Tomorrow or 2012, Emmerich has been chasing the kind of mass popularity that Independence Day won.
We here at Cinema Blend were confident he'd find it with White House Down, which opened just before Independence day in 2013. But despite promising white-knuckle action, an ass-kicking president and Channing Tatum, the $150 million White House Down fell hard, pulling in just $205 million worldwide. That Emmerich outing was a Sony venture, but perhaps Fox doesn't trust Emmerich with this make-or-break holiday weekend after all.
While Emmerich's shaky filmography could be a factor, what's more likely is that Fox has realized how stacked with releases July 1st, 2016 has become. That very weekend will see the release of Angry Birds, an animated movie based on the popular video game. Competing with this family friendly cartoon will be Buena Vista's adventure The BFG, an adaptation of the Roald Dahl book adapted by blockbuster god Steven Spielberg. Lastly, Warner Bros swings in with its big-budget, live-action adventure Tarzan, which stars True Blood's Alexander Skarsgård, The Avengers' Samuel L. Jackson, The Wolf of Wall Street's Margot Robbie, and Django Unchained's Christoph Waltz.
Maybe this combo was too much for Fox. Now, Independence Day 2 gets a jump on all three. Plus, we get it a week sooner, where it will only need to face off against Universal's The Mummy as a new contender. Perhaps that's a less scary prospect...
Staff writer at CinemaBlend.
Your Daily Blend of Entertainment News
Thank you for signing up to CinemaBlend. You will receive a verification email shortly.
There was a problem. Please refresh the page and try again.