Independence Day 2 Probably Is Bringing Back This Beloved Character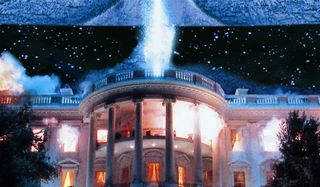 Which of our beloved Independence Day characters will return for another go in the upcoming sequel has been a point of debate. Director Roland Emmerich has been keeping mum on the whole situation, and it doesn't look like our beacon of hope against the alien invasion, Will Smith, will star. However, Emmerich recently tweeted a photo of a certain character that could apparently be back for Independence Day 2.
Yup, that's Randy Quaid as Russell Casse, the farmer out for blood who rams his plane right into the aliens' mothership, blowing the thing sky high and seemingly killing himself in the process. Could this tweet mean that the now 64-year-old Quaid will reprise his role for Independence Day 2? Stranger things have happened. Perhaps the extraterrestrials did some otherworldly juju and brought him back to the land of the living. For good measure, let's watch the moment the world presumed him dead:
Now -- and this is a major reason for doubt -- it's worth noting that Quaid and his wife, Evgenia, have been stuck in Canada for some time after the U.S. State Department revoked their passports. According to TMZ, the couple dined and dashed on a more than $10k hotel bill, and fled to our neighbors of the North when warrants were issued. Because of that, though, there was enough legal grounds to revoke their passports. According to Evgenia, in a FoxNews story:
Considering all that, Emmerich's photo could just be a fun throwback tweet to arguably his most famous movie of all time. Still, don't say we didn't warn you if everything comes up roses for Quaid.
Independence Day 2, originally set for summer of 2015, will be released on June 24, 2016, and there's still no telling who will star in the film or what it will be about. Recently, Jeff Goldblum, who played David Levinson, has been in contact with Emmerich and screenwriter Dean Devlin about potentially returning. As for our reigning president, Bill Pullman, Emmerich said back in the day that he would also make an appearance. Though, since then, the script has undergone a number of changes: after Emmerich took a go at it, he passed it along to Devlin, who then turned it over to James Vanderbilt. We'd be shocked if it stuck to the original outline.
Your Daily Blend of Entertainment News
Thank you for signing up to CinemaBlend. You will receive a verification email shortly.
There was a problem. Please refresh the page and try again.