Insanely Beautiful People Alex Pettyfer And Gabriella Wilde To Front Endless Love Remake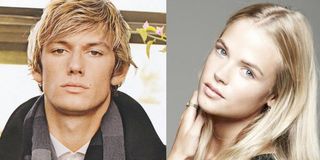 In 1981, Brooke Shields followed up her iconic turn in The Blue Lagoon with the teen-centered romance Endless Love. Based on the Scott Spencer novel, the Franco Zeffirelli-directed film centered on a girl who falls for a boy her parents don't approve of. And it helped cement Shields as a star. Now history might repeat itself as the Endless Love remake has snagged a gorgeous young ingénue of its own, with a handsome leading ingendude to boot!
Variety reports Gabriella Wilde and Alex Pettyfer have been cast to play the new versions of lovers Jade and David. Wilde is best remembered from Paul W.S. Anderson's 2011 take on The Three Musketeers, and will appear as Sue Snell in Kimberly Peirce's remake Carrie later this year. Pettyfer fronted the sci-fi flop I Am Number Four, and played the duplicitous bro-friend to Channing Tatum in the breakout hit Magic Mike. Basically, both have scored noteworthy roles, but this could prove their tipping point.
Understandably, these parts were coveted opportunities for young actors looking to breakthrough in Hollywood, resulting in much screen testing. Ultimately, Pettyfer won the role over Brenton Thwaites, who (funny enough) starred in the 2012 TV movie Blue Lagoon: The Awakening. For her part, Wilde beat out a batch of TV starlets, including The Slap's Sophie Lowe, Once Upon a Time's Sarah Bolger, and Bates Motel's Olivia Cooke. This should mean, beyond being insanely beautiful, Pettyfer and Wilde will share an intense onscreen chemistry.
Shana Feste, who wrote and directed Country Strong, will helm the Endless Love remake, and also rewrote its screenplay, previously penned by Josh Safran. However, it's currently unknown how closely Feste's version will mirror the previous picture or Spencer's novel.
Check out the original film's trailer below:
Staff writer at CinemaBlend.
Your Daily Blend of Entertainment News
Thank you for signing up to CinemaBlend. You will receive a verification email shortly.
There was a problem. Please refresh the page and try again.