Country Strong Director In Talks For Endless Love Remake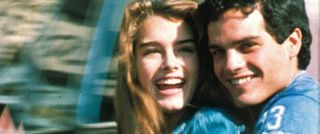 Writer-director Shana Feste appears to be inspired by tales of troubled love. Her first feature The Greatest centered on a pregnant teen forced to mourn her late baby daddy with his parents, who blame her for his death. Then came Country Strong, the unlikely Gwyneth Paltrow vehicle where the posh star played a has-been country singer seeking a comeback and reeking havoc on her marriage along the way. And now, she's poised to direct an adaptation of Scott Spencer's steamy novel of forbidden passion Endless love.
Variety reports Universal is in negotiations for Feste to helm the feature. And though Gossip Girl scribe Josh Safran penned the adaptation's first draft, it's possible Feste might contribute to the script. Frankly, as Country Strong made little more than its budget back at the box office and was widely panned by critics, it's surprising Feste is getting a second chance to helm another picture so soon, especially considering how statistics don't favor female filmmakers rebounding from flops. But with this news coming out, you can assume she must have a strong vision for the film that appeals to the studio.
Endless Love was first adapted in 1981. That drama was directed by Franco Zeffirelli, starred Brooke Shields and featured the Oscar-nominated Lionel Richie ballad "Endless Love." At this stage there are no stars attached to this Endless Love, and no mention is made of how closely Safran's script adheres to Spencer's original story. In 1981 movie, Jade and David were two teens from different worlds. She is a bohemian, whose parents knowingly allow the couple to—well—couple in her room. David's parents are affluent political activists who are generally too caught up in their causes to pay much attention to him. But when their romance gets in the way of Jade's schoolwork, her father demands David stop seeing her. But inflamed with love, lust and teen hormones, David comes up with an impetuous plan for reunion that proves totally disastrous.
The novel goes down some incredibly dark roads, and it'll be interesting to see if Safran and Feste will stay true to those paths or cut new ones of their own. Regardless, movie audiences seems never to tire of teen romances laced with tragedy, so this Endless Love seems certain to raise eyebrows and quicken pulses.
Staff writer at CinemaBlend.