Inside Out 2? Here's What Pixar Has To Say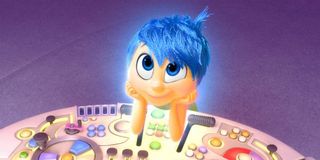 Inside Out has proven to be another success from Pixar. The film that follows the emotions that live inside the mind of a young girl earned a whopping $90 million at the box office opening weekend, making it the highest-grossing debut of an original film in history. It wasn't enough to beat Jurassic World for the number one slot, but it's still a major triumph, which begs the question, will Pixar opt for a sequel? As far as director Pete Docter is concerned, that probably won't happen.
Entertainment Weekly recently spoke with Docter and Pixar Animations Studio President Jim Morris about the success of Inside Out, which has floored both of them. When asked, though, whether they were thinking about riding the success into Inside Out 2, Docter said that he has no plans for one at this point in time and expressed his desire to create more original content for the studio. The previous films he directed for Pixar are Up and Monsters Inc., and while the latter earned a sequel with Monsters University, he wasn't a part of it. Though, Docter did say, "never say never" to an Inside Out sequel.
Aside from Monsters Inc., the only other Pixar movies that received sequels were Toy Story, Cars, and Finding Nemo. (Finding Dory is currently slated for theaters on June 17, 2016.) Though there aren't that many, Cars and Toy Story have branched out to become their own franchises. Whether the same could be done for Inside Out, is unclear.
Inside Out features Amy Poehler as the voice of Joy, Phyllis Smith as Sadness, Bill Hader as Fear, Lewis Black as Anger, and Mindy Kaling as Disgust. Together, these five emotions guid Riley on her path in life. But when the young girl and her family move to San Francisco, Sadness becomes more prominent. Worse still, a freak accident throws her and Joy into the wilderness of the mind leaving only Fear, Disgust, and Anger to influence Riley. The majority of critics called it one of Pixar's best for placing a spotlight on those lonely kids — or anyone, really — trying to cope with major changes in their lives.
If a sequel is not in the cards, Docter and producer Jonas Rivera want to bring this property into the Disney parks. While visiting Pixar headquarters in Emeryville, California, Docter said that he already spoke with the parks people about making this a reality. The process, however, is extremely complicated and involves a lot more than the desire to make it happen, but both hope to one day see their characters walking around Main Street.
Your Daily Blend of Entertainment News