Inside Out Was Partially Inspired By A Forgotten Disney Park Ride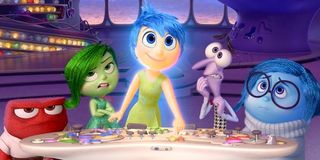 Pixar's success with its current creative offering, Inside Out, continues to showcase the company's ever-evolving conceptual depth. Yet, the film's premise, which focuses on characters representing the emotional inner-workings of a young girl's mind, is not entirely new territory. Interestingly enough, the inspiration for the idea was derived, in part, from a defunct Disney Epcot attraction.
When discussing the inspiration for Inside Out, director Pete Docter cites some sources in the field of animation such as Snow White and the Seven Dwarfs and an obscure World War II-era animation short, Reason and Emotion. Most notably, Docter recalls his tenure starting as a development intern on an Epcot attraction called Cranium Command. The ride-ish attraction, which lasted from 1989 to 2007, encased the audience in a theater designed to resemble the inner chamber of a young boy's mind, looking outward through his eyes as characters representing his parts of his mind interacted amongst themselves. As Docter tells Disney Insider:
The backstory to Cranium Command depicts the present park patrons as volunteer recruits who participate in a program designed to train pilots to operate and safely control human brains. Beginning with a lively animated intro building up the premise with a bellicose big boss named "General Knowledge," the patrons are then sent to a theater designed as some type of pseudo-technological hub of the brain of an apparently troubled 12 year-old boy. A set of monitors prominently represent his eyes as we see him go about his day-to-day activities from the first person point of view. However, the clear star of the show are the characterized pieces of the boy's biology, presented in a form more conducive to Epcot Center's previous leanings towards more educational endeavors.
Whereas Inside Out represents its psychological characterizations based on emotions like Joy, Sadness, Fear, Anger, and Disgust, Cranium Command took a necessarily biological approach to illustrate the physical workings of the body. An impressive array of comic and dramatic talent provided voices, such as Charles Grodin as the appropriately uptight "Left Brain," playing opposite the always loquacious late-80's Saturday Night Live centerpiece Jon Lovitz as "Right Brain." Lovitz's SNL brethren, Dana Carvey and Kevin Nealon played "Left Ventricle" and "Right Ventricle," Cheers barstool occupant, George Wendt played "Stomach," and Bobcat Goldthwait managed to put down his Police Academy blues to lend his killer voice to "Adrenal Gland."
Check out the video below to catch a preserved performance of Cranium Command during its twilight.
While the experience of a long-outdated Epcot attraction can hardly be comparable to the deeply heartfelt narrative accomplished by Inside Out, it does serve as a fascinating deconstruction of this clearly successful concept. Yet, the parallels between the two projects also provide an equally intriguing construct on how the fields of medicine and psychology can take radically different approaches to a similar aggrandizement of seemingly normal adolescent issues. While Cranium Command chose to represent these ideas through the body, Pixar, understandably, went the more poetic, flashy, colorful route with its five emotions.
While it may not teach you any noteworthy science lessons, you can catch Pixar's Inside Out for an entertaining, heartfelt experience in theaters now.
Your Daily Blend of Entertainment News