Why Key and Peele Might Not Appear In Their Own Police Academy Reboot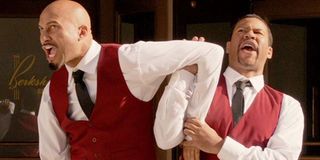 Comedians Keegan-Michael Key and Jordan Peele have been winning critical praise and fan devotion with their satirical sketch comedy show Key & Peele. Now they've set their sites on Hollywood with a slate of film projects, including a Police Academy reboot. But with their skills of seamlessly taking on a wide array of roles, why are these two insanely funny men saying they may not appear in the reboot of the crime comedy? They fear they may pull focus.
Speaking to EW while serving as guest editors, Key and Peele were up front about their aims for Police Academy. Jordan Peele explained:
Keegan-Michael Key and Jordan Peele were first tied to the project in April, when New Line Cinema asked the droll duo to produce Police Academy's reboot. At the time the script was being penned by The Break-Up's Jeremy Garelick. However, Key and Peele told EW that they've since put Ike Barinholtz and Dave Stassen--who Peele describes as "brilliant, funny men"--on revisions. It's suggested that roles that would suit Key & Peele's stars are in the script, but for now we'll have to wait to see if they'll take them.
We already know Key could play a solid update/parody of Michael Winslow's sound effect spewing Larvell Jones. All thanks to the "Kings of Mouth Noise" sketch!
But Police Academy isn't the only iron Key and Peele have in the fire. Last November, Judd Apatow saw the potential of this pair and offered to produce a vehicle for them with Universal Pictures. No details were released on the pitch of that project, but apparently that one is already dead. "We're starting at step one again with that," Keegan-Michael Key admits. "There was an idea with Judd, [but] we're not doing that idea anymore. Now we're going to start from ground zero and start all over again."
With the wild cast of characters they've unleashed on Key & Peele, it's anyone's guess what the movie might be about. But since then a breakout character on the series has earned his own development deal. Key told EW that two writers have been tasked with drafting a script for his substitute teacher character, Mr. Garvey, who chronically mispronounces students' names and distrusts every last one of them. (I'm looking at you A-Aron!)
But that's not the least of their ambitions. Peele also admitted he's hoping to direct a straight-up horror movie for Darko Entertainment, pulling inspiration from such domestic thrillers as Rosemary's Baby and The Stepford Wives. Of course, Key & Peele have tackled horror too…
Get More: Comedy Central,Funny Videos,Funny TV Shows
There's just no end to their talents.
Your Daily Blend of Entertainment News
Staff writer at CinemaBlend.