Interview: Animal Kingdom Writer-Director David Michod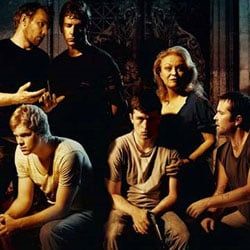 With Scott Pilgrim vs. the World, Eat Pray Love and The Expendables all hitting theaters this weekend David Michod's Animal Kingdom has some serious competition. All three of those wide releases target different demographics. Scott Pilgrim will pull in the younger crowds, Eat Pray Love primarily woman and The Expendables all the guys craving action. However, Animal Kingdom can't be assigned a specific category; it's different and if you're looking for something other than the typical summer blockbuster, it delivers big time.
Animal Kingdom is Michod's very first feature film, but having gone to film school, written Hesher and directed a number of short films, he's certainly no novice in the industry and it shows. The piece is about the Cody family, a family very well known in the Melbourne crime underworld. Pope (Ben Mendelsohn) is the oldest of three brothers, Craig (Sullivan Stapleton) falls in the middle and Darren (Luke Ford) is the youngest. Baz (Joel Edgerton) is Pope's partner and practically part of the family. Their mother Smurf (Jackie Weaver) is always busy watching over them and even agrees add another to the clan when her young nephew's (James Frencheville) mother passes away. But when the Cody legacy begins to crumble, they've all got to reevaluate where they stand and try to survive while J just has to figure out where he belongs in this jungle.
Michod first began working on this story right after he finished film school and the time he's put into it really paid off. But the script isn't the only thing that required a significant amount of attention; there isn't one element of Animal Kingdom that isn't clearly well thought out, making the final product extremely effective. Check out what Michod had to say about every aspect of the filmmaking process from developing the script to casting the Codys, all the way down to the editing process.
Your Daily Blend of Entertainment News
Staff Writer for CinemaBlend.