The Interview Will Be Available For Free On Netflix Soon, Get The Details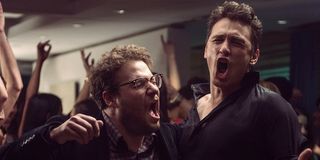 The Interview has been killing it online. If you haven't been paying attention to what has transpired, the controversial film at the epicenter of the Sony hacking scandal has raked in upwards of $40 million in online and rental sales, which is way more than people are paying to see it in theaters. And Sony is taking notice. Now the film will be more easy to watch than ever, as it'll be available to Netflix subscribers this week!
The news was revealed by the online streaming service on Tuesday, though Variety reported that Netflix had entered talks with Sony for the streaming rights back in December. Starting on January 24th, Netflix subscribers will be able to see the Seth Rogen and James Franco film for no extra charge. According to the announcement, it will be a Netflix exclusive, which means that we shouldn't expect it to drop on Hulu Plus or Amazon anytime soon.
This is the next logical step for Sony, which was initially worried about releasing the film online via such services as Google Play, YouTube and iTunes. However, their fears quickly subsided. Starting with its initial digital release on December 24, 2014, the day before its limited theatrical debut, The Interview has been rented and purchased more than 5.8 million times. Considering that the major movie theater chains refused to screen the film, leaving only smaller venues to bring in ticket sales, this is quite an achievement.
Hopefully this deal will help bring Sony out of the gutters with The Interview. The film cost $44 million to produce and $30 million to promote. In losing the major theater chains in response to 9/11-referenced threats from the hackers, some speculated that the studio would lose upwards of $75 million. Thanks to expanding VOD sales, though, it seemed like they could break even. Perhaps this deal with Netflix can boost them a bit higher than anticipated.
To give an even greater impact to this deal, a recent survey named Netflix the most popular streaming service. One thousand consumers were polled, and Netflix had the most subscribers of all platforms, including Amazon Prime, HBO Go and others. Not only that, but they also pulled rank in the number of hours its subscribers spent watching content. Netflix deserves these numbers in light of its original programming. It even proved that it can hold its own alongside the major networks in the Golden Globes and Emmys races. House of Cards recently walked away with the Globe for Best Actor, thanks to Kevin Spacey's popular role as the Call of Duty-obsessed antihero Frank Underwood. It's also beefed up its movie offerings since the service debuted.
The funniest part about this whole thing, though, has got to be the film's poor critical acclaim. While it's in the interest of freedom of speech to watch the film, it was certainly dragged through the mud by a good number of reviewers. This Netflix deal will surely help prompt a significantly larger number of people to "suffer" through it, however.
Your Daily Blend of Entertainment News
Thank you for signing up to CinemaBlend. You will receive a verification email shortly.
There was a problem. Please refresh the page and try again.