The Interview Is Getting Remade, By Hustler, As A Porno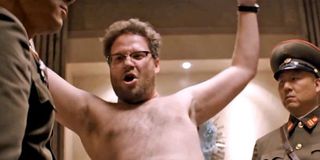 Leave it to the porn industry to jump on some free publicity in the wake of a chaotic scandal. Hustler Video, the American pornographic film studio that has brought parody films on pop culture subjects ranging from The Simpsons to Avatar to Game of Thrones will now produce an adult-video spoof on the much-talked-about-but-still-unseen comedy, The Interview.
The adult film, which will be entitled This Ain't the Interview XXX, will follow the two civilians (played by Seth Rogen and James Franco in the original) as they are recruited to the CIA in order to assassinate North Korean leader, Kim Jong-un. It's still unclear what the pornographic story line will entail, but The Hollywood Reporter reports that Hustler founder and chairman Larry Flynt insisted:
In the backlash that has come from Sony's cancellation of the film in theaters, after cyber threats claiming 9/11 type violence on any theater that moved forward on the viewings, many people including George Clooney, George R.R. Martin, and even President Obama have scrutinized Sony's decision. They claimed that this cave into the terrorist threats is completely going against the First Amendment right of freedom of expression. Sony has recently responded to criticisms without taking responsibility, and pushing blame towards the theaters who would not play the movie and that Sony only followed suit. Whoever may be to blame in this complete disregard for the freedom of creative expression, it has spurred a serious debate on the power of studios such as Sony, and their ability to so easily cancel a film after it has already been produced.
Larry Flynt, head of Hustler, is no stranger to the issues surrounding creative expression. Not only because he's a major leader in the porn industry, but because he has also fought for his own creative freedom in the Supreme Court. In his statement announcing the parody he says:
The case, Hustler Magazine vs. Falwell was brought to the Supreme Court in 1988. The suit was in response to a parody of Jerry Falwell's first sexual encounter, and the unanimous court decision was that the parody was in grounds of the First Amendment's free-speech guarantee and that Jerry Falwell was not entitled to any compensation for "intentionally inflicted emotional distress". This case is now taught in law schools in regards to freedom of expression.
Flynt's response in making this film, while obviously in line with making some serious cash, is also a prime example of what Sony should have done in the first place. Stand up for yourself. Nobody should be able to stunt your freedom of speech, especially not a foreign dictator. Production of This Ain't the Interview XXX will begin in early 2015.
Your Daily Blend of Entertainment News
Thank you for signing up to CinemaBlend. You will receive a verification email shortly.
There was a problem. Please refresh the page and try again.