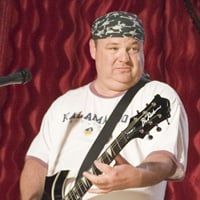 Kyle Gass is the other half of Tenacious D with Jack Black. When paired for an interview, he tends to let Black do most of the talking. Black is the movie star and the one most likely to be quoted anyway. But we like Kyle Gass too so we're giving him his props.
The D's first film, Tenacious D in The Pick of Destiny, was made on the cheap so the band could retain creative control. "We had to take no money," said Gass. "On the back end, if it does well, we're going to be on Barbados."
The growing fame of his costar actually helped the film's budgetary prospects. "As big as Jack was getting, it could only help get a name I think. That's all they really think about it bankability."
Going on tour with a movie star hasn't changed much, except for a few Shallow Hal posters in the audience. "We've played shows. We've had great tours. I think people seem to separate it pretty much. It's just the way it is. You've got two jobs. People can separate it."
Tenacious D began as a 10 minute show on HBO. Extending their legacy to a full length film allowed the boys to do many long takes to find the funniest jokes for the film.
"We're pretty good at not cracking up because you don't want to blow the take. There were a couple of times. You take movies apart so much, some weird close-up. I think the very last scene we had a good time when we're smoking out of the Devil's bong and we put some real pot in there."
The film also allowed the D to get more physical than just standing on a stage strumming guitars. "We're like Jackie Chan. We do all our own stunts."
Some of the stunts include a power slide under a closing gate and a major car chase. "We had to go to special driving school. No, we had stuntmen to do all that. They have a special car that they make to do stunts that has these huge wheels and it kind of spins around and you're sort of driving it but they're driving you in the car. It's a barfy ride. I'm not gonna lie to you. It's a barf machine. It's fun though."
The power slide was much lower tech. "It was a pretty old school special effect. We were just being pulled."
The Pick of Destiny is ultimately about the great love relationship between band members. "It's a threesome." Don't worry, the boys get some babes too. "I think that music is somehow simulating sex. It appears we have some sort of special touch. It seems like we'd be good in the sack."
The film dramatizes the initial collaboration between KG and JB but Gass remembers the first song they actually played together. "The inspiration for Tribute was Mettalica's One that Jack played for me one time. It had an epic quality and as long as you're doing it you might as well try to go for the greatest song ever."
Now the boys have a routine including an optimum schedule for collaborating. "Definitely a nighttime thing I think. Jack doesn't really get rolling until around two or three, mentally."
The D has been described many different ways, including S words from Satire to Satan. Gass said, "I think it balancing between some hard rockin' and having fun with the form, the lyrics. I think our commitment to the rock is funny to me. We definitely play on the Black Sabbath and the Satan thing, which when you look back seems really funny, but you don't think there's any irony in those guys, but now I think when we do it, hopefully it appears fun."
Gass has a second band, Trainwreck, in which he is the lead. "I started Trainwreck so that I could talk on stage, because Jack is a steamrolling motherf*cker up there. Jack is really entertaining and the reason it rocks so hard is because Jack is awesome. I still enjoy watching Jack perform after a gazillion years of watching him. I'm just going, 'Wow, that's really fun.' Trainwreck is satisfying. But I figured out mathematically that Tenacious D is actually a thousand times more popular."
Tenacious D in The Pick of Destiny opens November 22.
Your Daily Blend of Entertainment News
Thank you for signing up to CinemaBlend. You will receive a verification email shortly.
There was a problem. Please refresh the page and try again.