Interview: The Loss Of A Teardrop Diamond Director Jodie Markell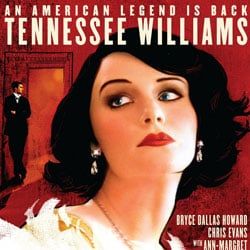 Legendary playwright Tennessee Williams had a magical relationship with director Elia Kazan. They collaborated on both Baby Doll and A Street Car Named Desire, the first of which was nominated for four Academy Awards and the second, nominated for 12, winning four. The plan was to reunite for a third film, which Williams called The Loss of a Teardrop Diamond, but when Kazan attended to other projects, the concept dissipated.
It wasn't until the screenplay landed in the hands of actress-turned-director Jodie Markell, that The Loss of a Teardrop Diamond received the breath of life it was meant to get decades earlier. In her directorial debut, Markell assembled a star-studded cast to bring the character Fisher Willow (Bryce Dallas Howard) to the big screen. In an effort to reestablish a reputation tarnished by her father's mistakes and secure the fortune of her great Aunt Cornelia (Ann-Margret), Fisher calls upon a plantation worker (Chris Evans) she fancies to escort her to a series of parties. When Fisher loses a priceless teardrop diamond earring at one of the soirées, not only do Fisher's hopes for the future crumble, but so do her chances of developing a serious relationship with her escort.
Check out what Markell told me about developing a screenplay by one of the most influential playwrights of the 20th century, how her acting experience affects the way she directs her cast, and more.
Did you feel a lot of pressure being a first time director?
You know, people ask me that question and maybe I'm just an idiot [laughs] – No, no, maybe I'm just blind, but I didn't feel pressure. I just was so excited to have the opportunity. I had studied at Northwestern University and I had studied the adaptation of literature to the stage and screen with Frank Galati, who was my mentor [and] was the writer of Grapes of Wrath and director on Broadway. We were interested always in retaining the real voice of whatever work we were bringing to life, and that was one of my great loves, to be able to really be able to strip away and get to the essence of a writer's vision and support that vision. So, I was excited because I was going to get to do that with Williams.
Speaking of pressure, what was it like working with the screenplay by one of the most influential playwrights of the 20th century?
Well, you know, if I allowed myself to feel that pressure then I probably would have not been able to make it work, but I just, I didn't think of it that way. I felt like I was home, as Elaine Stritch said last night when she reads Williams – because it just felt like, well this is something that I know how to do and this world of Williams I grew up in. When I was 15 I played Laura in The Glass Menagerie, so I felt a kinship with this material. Everybody has their own personal relationship with an artist's work, especially Tennessee Williams. Everybody feels like it belongs to them because he speaks to people's hearts. He was able to make a poem for people to respond to and that's what I think great art should do, especially classic cinema.
Tennessee Williams wrote the script for the screen decades ago. Did you alter anything to make it more digestible for modern audiences?
Because it was set in the 20s it already wasn't going to be dated as a 50s thing even though it was written in the 50s. With any original screenplay, if you're working, you're going to have to make some adjustments. There were a couple anachronistic things that would have been too confusing. Whenever I had a challenge I tried to make it work the way it is first as hard as I could and then if I couldn't, I had to find another answer.
If you were given the chance to ask Williams just one question before making this film, what would it be?
I would ask him questions in my heart everyday, all day long, and I felt like I had a dialogue with him. What would Williams do? Would he think this was funny? Would he like this scene? Would he like this actress? You just kind of get this sense of 'Nah, I don't think he would have liked this' or 'Williams would have appreciated this.' You just get that sense. I just would like to ask him if I could hang out with him for a while because I think he must have been really fun.
I know this was years ago, but can you tell me a little bit about replacing Lindsay Lohan with Bryce Dallas Howard?
Lindsay was never originally cast. We offered the role to Bryce, so the press actually got it wrong. We offered the role to Bryce and at the time she was pregnant and it was a private matter, but she was not able to work. So other actresses started coming to us because we thought we had to shoot at a certain time. I think Lindsay is a very bright, beautiful, just incredibly talented actress who's fallen into a path that I think is not healthy for her and has been misguided in many ways. We met and I thought there were a lot of things that were Fisher Willow-esque about her. Somebody leaked it that she was doing it and so then, I interviewed other actresses and we postponed our start dates so much that finally Bryce's agent got back in touch with me. It was Christmas and she called and said, 'We would like to revisit the idea of Bryce.' it was the best Christmas present I ever got because she was still, always had been my first choice.
What about Chris Evans? Most of his credits include superhero and action films.
They're grooming him to be the next Tom Cruise, but he was trained in the theater. He grew up in the theater. His parents had a little theater outside of Boston and I think he really wanted to get back to his roots, and I needed an actor who could smolder and be enigmatic in a way that most contemporary, young actors don't necessarily know that skill or have that ability. He was able to create such a classic image and I'm just really thrilled, because I feel like it's going to open up a lot of opportunities.
What about casting Ann-Margret?
Oh my gosh! Ann-Margret is an icon, and she had done Blanche in a television production of A Streetcar Named Desire the same year that Tennessee Williams passed away. She was a really good Blanche and we felt that it was nice to honor the legacy of Williams. It was really important to us to have someone in the film who had really worked with Williams in the past and also did let her play a role that she wouldn't normally be cast in. She's such a good actress and she's such a great person.
You also cast Mamie Gummer. Can you see some of her mother, Meryl Streep, in her?
When I first saw her I did not know that she was Meryl Streep's daughter and I kept saying this is such a great young actress and she's got so much personality on stage. She was in a play that was directed by my friend, Michael Greif, and I was like, 'God. Where did Michael find this girl?' And then halfway through I was like 'She kind of reminds me of, oddly enough, Meryl Streep.' And then I found out she was Meryl Streep's daughter. I really did not come to her because she was Meryl Streep's daughter, I actually was taken by her talent. And she's just so perfect Julie, who's the girl next door but she's got a wild streak underneath and a great sense of humor.
Do you prefer an abundance of rehearsal time?
Yes, I like a lot of rehearsal. We were on a 28-day shooting schedule for a period film. When my cinematographer first got to location he said, 'I usually have, like to say, four months for a period film' and we had 28 days. He did an incredible job. So I begged the producer to carve out some rehearsal time and of course that included asking the actors to be there for rehearsal, which is also unheard of in an independent film schedule, and they came. The actors wanted to as well. We rehearsed for five days in a room like this, with a conference table, and we just made so many discoveries that helped us throughout.
Did your acting experience help you connect to your cast?
I love actors and I love being around them as an actor with other actors and yet, also working with directors who don't know how to talk to actors. I've worked with a lot of different kinds of directors. Some of them do not know how to talk to actors and you know right away and you just shut down. You can't do your best work and you feeling like you're on your own. Well, I just wanted to support them, create an environment for them to make discoveries because if you allow them to make discoveries and you don't tell them what to do or exactly where to stand, when you want them to try to discover, then it makes things come alive on screen because you, as the audience, see the discovery and the actor owns it. I don't like to treat actors like puppets. I think it's important for them to own their own journeys.
One of the most notable elements of the film is the imagery. Was there anything particularly important when it came to recreating the South in the 1920s?
I was very particular and so were all my designers about the visual world of the film. Even as an actress sometimes, I get uncomfortable if the set I'm on is not right and doesn't look reflective of the period or is just bad to the eye. I just always appreciate cinema that has a painterly feel and classic cinema – that's why we shot in CinemaScope, because we felt that that resonated from the films of time he was writing but also it, not only provides a larger than life canvas for those scenes, but also it makes an intimacy with the actors. There's not as much cutting back and forth. You can get a close-up of two actors at the same time, and they can have their exchange and interplay, and we really can sit back and see their work. We're not just being fooled by a camera movement. I really enjoyed the production design, working with Richard Hoover and David Stein. My sessions with them about the visual look of the film and with our cinematographer were some of the best moments of my life. I just loved that part of it.
Were the teardrop earrings really worth $10,000 or were they just props?
Well, you know, what's funny is because they're $10,000 back then, so how much would that be now? We never did the math, so I always wondered if that line would have resonance, but it seems that it still does. But, you know, how much would that be – a couple hundred thousand now. They were not the real ones because we realized that we would have to have a security guard as part of our everyday experience on the set and we just chose not to do that.
Your Daily Blend of Entertainment News
Staff Writer for CinemaBlend.