Interview: The Other Guys' Eva Mendes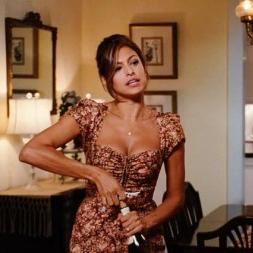 Eva Mendes has never been an actress to stick to genres. She's done action (2 Fast 2 Furious), drama (We Own The Night, Out Of Time) and comedy (Hitch, The Women), and has looked stunning in each one. Her new film, the Adam McKay/Will Ferrell movie The Other Guys, not only blends the action and comedy genres, but allows her to look her hottest.
I got the chance to sit down with Ms. Mendes (as well as her giant dog which happened to be sitting on the couch right next to her) and talked about what it was like working with her dream director, the atmosphere on set, and what its like to sing "Pimps Don't Cry" to Will Ferrell. Check it out below.
Going into this film were you a fan of Ferrell and McKay's work and how did you come to be involved with the film?
First of all, you have to understand that Adam McKay is my Scorsese. Anchorman, to me, was a perfect, perfect comedy. It's so layered and it's an amazing film. [The American Film Institute], a few years ago, asked me what the best film of all time was and everyone was saying The Bicycle Thief or Citizen Kane or something, and I was like Anchorman! So I've been wanting to be a part of this team for a while. I think, actually, McKay had read that I said that on AFI or the website or something and then he requested to meet with me. So I had lunch with him and Chris Henchy, the other writer, it is was just like we were done. We got along, I totally got it, I was in with the joke, I get it, it's cool. I just want to do more and more films with them.
Are there plans to do another film?
Oh, on my end there are. I have a ton of plans for more.
In the film your character is so insanely beautiful that Mark Wahlberg's character find's it impossible to believe that you are married to Will Ferrell's character. What does that kind of role do for your self-esteem?
What I liked about the film is that I get to play with that a little bit because the person who I want to think I'm most attracted to is my husband, played by Will Ferrell, and he says, "Eh, she's cute. She's not hot, she's cute." And I thought that was really funny and great and I still don't think it's far fetched for me to be playing his wife. I think in that setting it is because he plays such a boring, paper cop, but Will Ferrell's wife is very beautiful. We love funny guys, girls love funny guys.
What was the atmosphere like on set? Obviously you've run the gamut from comedy to action to drama, so what was it like on this set and how did it differ from other films you've worked on?
There was an ease on this set that I've never experienced before. They really supported me and encouraged me to be my best, and that doesn't always happen. You'd be surprised when you work with some very big male stars they want you to be good but not necessarily great – in cases. With this film they wanted me to just soar. So any suggestion I had they'd be like, "let's try it!" And a lot of things didn't make the movie, but that's not the point here [laughs]. The point is that they were amazing as far as really, really encouraging me to try everything and be as funny as I can be.
You say that you contributed ideas, how much room was there for improvisation?
So much improve, oh yeah. Because I also have that mentality where it's sink or swim and I'm not going to sink. So I'd get in there with the guys and then be like, "okay, it's on!" And Ferrell, you know that he's the master, he's improv king. So I had to hang in there with him and I did.
Did you get the sense that you had to keep up with him?
Oh yeah and I loved it because it was challenging and just so fun. Fun stuff.
How many takes would you do on average, such as the first dinner scene with you, Ferrell and Wahlberg?
So many takes, but it's hard to say because they shoot different angles and they always had two cameras and stuff. But, a lot. Enough to where you're having so much fun and you're getting different stuff every time. And, honestly, I was shocked to see how long they would let the camera roll. They would just let it roll and roll and roll. Normally it's "time is money" on the set and everything is so valuable and precious, but there's a sense that they know what's precious and what's precious for McKay is the performance. He knows that a lot of time, in those moments, you gotta let that camera roll so those moments can happen.
You do a bit of singing in this movie. What was that kind of experience like?
It's terrible. Well, that scene was really tough to do, even though I only sing a couple lines, it was very tough because you actually have to look into [Will's] eyes and start singing "Pimps Don't Cry." That's just ridiculous. You really don't get more ridiculous than that. And so, with that I was just like, "Oh, God," because it's just insane, but, at the end, it was actually my first time going to a recording studio, with the great John Bryant, and we recorded the song which was so much fun.
Do you have a favorite scene from the film and a favorite moment from on-set?
I think one of my favorite things about the movie is this whisper fighting. I think that's amazing. I think that's so funny, and they all commit so wholeheartedly and I love that. And as far as being on set, just the experience of being there with "Crazy Brains" McKay. He's amazing. I just think he's so incredibly intelligent and you can't be that funny without being smart. Not the way he is, and he is an intelligent man. One of my favorite parts is just him sitting behind the monitor, and I'll be in the scene, and he'd just yell out random things for me to say and I love that so much.
Your Daily Blend of Entertainment News
Assistant Managing Editor
NJ native who calls LA home and lives in a Dreamatorium. A decade-plus CinemaBlend veteran who is endlessly enthusiastic about the career he's dreamt of since seventh grade.