Interview: Rosie Perez And Danny McBride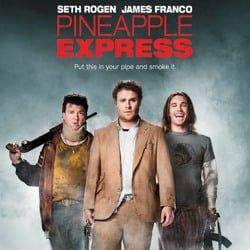 Danny McBride and Rosie Perez barely have any scenes together in Pineapple Express, but both of them play a major role in the mayhem that starts when a stoner accidentally leaves a joint at the scene of a crime. Perez plays the crooked cop at the center of the crime, while McBride plays Red, a pot dealer himself whose loyalties are unclear even to the end-- and who has at least as many lives as your average housecat. Perez has been working steadily in movies for over 15 years and McBride is just getting started, but the two acted like old friends while getting peppered with questions from an assorted bunch of journalists.
Rosie, did you enjoy working with all the improv?
Rosie: Initially I couldn't stand it. It was nerve-racking, because I just did all the Broadway—I did three Broadway plays back to back. You cannot deviate from your play. So I'm sticking so strongly to the text, and David's like 'Let it go.' Once I let it go, and once they paired me with Gary Cole, then I was able to relax and go forward.
Danny, David Gordon Green told me that when you were in college he appeared naked in your student film, and you've owed him ever since. How did that happen?
Danny: He did. He did naked pull-ups in my senior year film. It was pretty incredible. It was the first all-nude role in a student film there. I hang my hat on that every day.
Do you intend to go back to making movies?
Danny: I would love to. Right now I've been lucky enough to work with all these people that I've always admired. It's kind of hard to turn those opportunities down. But yeah, I would like to go back and direct and write more.
Rosie, you had a big fight scene. What was that like?
Rosie: It was excruciating and I thought they should have paid me more money. Seriously, it was harder than I thought.
What were some of the influences in the character of Red?
Danny: A lot of that I will credit to David. One thing David does, whatever ideas you have going into it, he gets you out of that area, whatever you planned. You'll start doing it, you'll do it the way you want to, and he'll be like "Do it like you're a drunk robot now. Do it like you're an Indian chief." Then he kind of picks and chooses.
Rosie what are you main interests, since your career has spanned dance, choreography, stage acting, movie acting...
Rosie: Well, dance and I, we broke up. I would say that right now that my heart is still with the theater. I would say that this movie, and this is no bullshit, this movie reignited my love for moviemaking. This one and the one I did previously, with John Leguizamo, The Take. those were two movies where I got to do something different. Only the theater did that [before].
Do you have any projects coming up?
Rosie: I'm going to be on Lipstick Jungle. Then I'm producing two movies.
Danny: I just finished shooting Land of the Lost with Will Ferrell. It was a pretty awesome time. And then the guys I made an independent film with, The Foot Fist Way, we sold a TV show to HBO that we're writing now. We go into production in the fall. We shot the pilot under East Bound and Down, but that was just a bullshit title. I don't think you can name a TV show after the theme song to Smokey and the Bandit. We tried! That's just about a major league pitcher who's a total asshole, and he uses his fastball. It's a commentary on the state of the modern American hero, and how shitty he is.
And you have a project with David, too.
Danny: Yeah, we're trying to make this movie, Your Highness. Kind of what Shaun of the Dead did with zombie films, we kind of want to do that with 80s fantasy movies. I can't believe anyone's interested in it. It's the most retarded idea. We want to approach it using those old-school techniques for special effects.
Rosie, what drives you to continue acting?
Rosie: I think I just have this need to be a storyteller. That's why I wasn't a great dancer-- I couldn't articulate a story. I was a better choreographer. I have the need to to just express myself in that way. I can't explain it.
Didn't Spike Lee discover you when he cast you in Do The Right Thing?
Rosie: Yes, he discovered me. I was in a nightclub, and we got in an argument. And out of the argument I got a job.
Danny: When I get in fights in bars I wind up with a black eye.
What was the argument about?
Rosie: He was having a butt contest to see which black woman in the club had the biggest ass. And I was saying "Don't degrade yourself," so I just ridiculed the whole thing and jumped up on the stage and bent over. Then when I found out there was this little, scrawny guy behind it... and then we started arguing.
Is there any dream role that someone wouldn't realize you want to play?
Danny: I don't know. I haven't had a chance to sit down and look that far ahead.
Rosie: I don't know. I know there's a role that scares me, that I've been offered but I keep turning it down.
What is it?
Rosie: To play [Cuban singer] La Lupe. That's a big thing to do. [Explaining to Danny] La Lupe is like a Barbra Streisand. And who the hell would want to play Streisand?
Staff Writer at CinemaBlend
Your Daily Blend of Entertainment News
Thank you for signing up to CinemaBlend. You will receive a verification email shortly.
There was a problem. Please refresh the page and try again.