Interview: Rudo Y Cursi Director Carlos Cuaron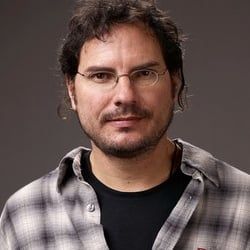 Carlos Cuaron wrote the screenplay for the 2001 smash hit Y Tu Mama Tambien and for a handful of other Mexican films as well, but most people know him as "brother of Alfonso," the director of Y Tu Mama as well as the gloomiest Harry Potter movie.
But now that the younger Cuaron brother is making his directorial debut with Rudo y Cursi, people will be remembering his name as well. We talked to Carlos Cuaron during a roundtable interview about Rudo y Cursi, a comedy he wrote and directed about two poor brothers who both become professional soccer sensations. The brothers are played by Gael Garcia Bernal and Diego Luna, who leapt into stardom while performing Carlos' words in Y Tu Mama. We'll have our interview with them later today, but in the meantime, check out our chat with Carlos.
Why did you decide not to put any soccer in your soccer movie?
Because it's not a soccer movie. I wanted to make it very clear that it's a movie about brotherhood, the main theme is the main theme. I thought it was distracting, because it's not part of the theme. What we see is the human emotion reacting to what's on the field, or the sportscasters narrating the game. I only go to the field in the climactic moments in the rivalry between these two guys, because that's important.
Did you have to teach your main actors soccer for this?
Yeah, they are such bad players [laughs]. I did have to teach them. I wanted them to feel real, with the ball or the posture, that they were real professional players. That was the basic reason. Also, to get fit, it was very important. I think they had a lot of fun, especially Gael. Diego hates to be a goalkeeper, so he suffered. He was training to block the ball while he saw Gael having fun with it. He didn't like that.
Where did the inspiration of this story come from?
I originally wanted to make a fake documentary about a soccer player who came from a humble backgrond and made it big, and when he was at the peak of his success, he mysteriously disappeared. I told this idea to Diego and Gael separately, and they both said, 'I want to be that guy.' It was great, because I had two actors, but I only had one character. I realized at that point that I wanted to work with both of them. So I made up a brother. I told them it was going to be a sibling rivalry story. I told Gael that I wanted him to play Cursi and Diego to play Rudo, and their first reaction was 'No.' They wanted to play the other guy. And I told them that I didn't want to repeat myself, I didn't want to make Y Tu Mama Tambien too. I wanted to cast them against type. They got it immediately.
Does the bond between Rudo and Cursi parallel the one between you and your borther?
Besides the fact that we all are idiots? Or the way that you poke at each other as brothers. No, it's more about observation, and the fact that brotherhood is universal. The way that you relate to your sibling is probably very close to the way that I relate to mine. There are these things that are unexplainable. You can have an argument and hate him or her, and 10 minutes later it's cool, no problem. Then sometimes it's 25 years later, yeah, I hate you. But that's what brotherhood is all about.
What made you decide to make the leap and make this your directorial debut? Was it the backing of three amazing producers [brother Alfonso Cuaron, Guillermo del Toro and Alejandro Gonzalez Innaritu]?
No. Well, yeah, they ecnouraged me the moment they decided they wanted to produce the film. But when I pitched the idea to my brother, he said, OK, great, when you have a bulletproof screenplay, I'll help you produce it. When that started to happen, next thing was Alfonso called me and said "Hey, what do you think if Alejandro and Guillermo help me produce this thing?" Then he explained that they were creating Cha Cha Cha [their production company], beacuse I didn't know. It was a surprise to me, but I was honored, really. It was great.
Did you feel extra pressure being the first film released under Cha Cha Cha? And being your brother?
Either I'm too stupid or too unconscious, I was just the donkey following the carrot, and never thought about the pressure. I just wanted to make my movie. They gave me complete creative freedom. They were also very demanding, because that's how they are, that's how they make films. That's how I am, so that's no problem. The feedback is great, because it comes from great filmmakers. It doesn't come from a producer who only gets the money and that's it. It was great. They would have done the same thing if they hadn't produced this film, because that's how we relate to each other. They send me their scripts, I give them notes, we get into each others' cutting rooms, that's the usual. We sort of officialized the friendship with a production.
Can you give us a good translation of the nicknames Rudo and Cursi?
Rudo means something close to tough, or ruthless. that's easy. Cursi is more difficult, because it means many things. But in general terms I would say it's corny, but at the same time cheesy, and at the same time mellow, overly romantic. It has different connotations. It's different in Mexico than in Argentina than in Spain.
What was it like working with Diego and Gael? And how did you use their real-life friendship to your advantage?
The thing is that, that chemistry, that very strange chemistry that is between the two them, is something you cannot get from years of rehearsal. It's something that they have together. It helps create that brotherly dynamic. It's not that they behave like Rudo and Cursi. It helps a lot that they know each other. It helped a lot that we know each other so well. We know each others strengths and weaknesses. We know how to read each others' moods.
The soundtrack is a big hit in Mexico, right?
The soundtrack became a big hit, and also Gael's "Quiero Que Me Quieras" [Spanish version of "I Want You To Want Me"] became also a big hit, especially ringtone downloads. People are singing it on the street. The social impact that it has created is weird.
Staff Writer at CinemaBlend
Your Daily Blend of Entertainment News
Thank you for signing up to CinemaBlend. You will receive a verification email shortly.
There was a problem. Please refresh the page and try again.