Interview: Saw VI's Tanedra Howard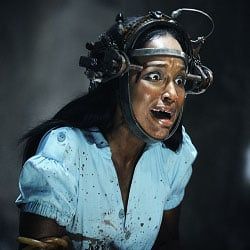 You find some interesting things on Craigslist. There's ads for animals, cars, apartments and even some movie gigs. Well, actually, there are tons of postings for acting jobs, and that's a fact that Tanedra Howard is well aware of. When she came across an offer from Lionsgate, she was skeptical and rightfully so. Luckily she followed her instincts and ending up being cast on the VH1 reality show Scream Queens.
After going through grueling challenges like jumping out of a three story window and, most horrifically, a series of events in which she had to swim through a pool of blood and carnage, hop into a body drawer at the morgue and cover herself in cockroaches, she reached the pinnacle, a role in Saw VI. Tanedra certainly earned her role in one of the biggest horror franchises in history and has a vast knowledge of the genre, but she's well suited for another kind of movie: comedy. Tanedra is downright hilarious! Check out our interview with her below.
So what made you such a Scream Queen? Do you have a background in acting?
Oh that's the funny thing because I didn't have a history or a background in acting. I don't want to say, yeah because I was the best, but I mean, I don't know, I guess they talked a lot about believability and drive.
What was it about you that showed terror?
That's the thing, it wasn't really about terror, even though the challenges on the show were kinda horror based. It was just kinda who fit in better and who could they see actually filming a Saw movie, because our challenges always had something to do with horror, like vengeance and terror and murder. They just see how you fit and how you, you know, deal in the elements.
What else did they do to you?
I had to be a vampire one week – a sexy vampire of course. Then I had the whole cockroaches on me, about 12,000 of those, Madagascar, big roaches. I had to be vengeful one time in a pool of bloody water with bones and skulls and heads and stuff. The first week, when we first got there, they threw us into our first acting challenge and we had to plead for our life from a chainsaw guy. He was like rearing a chainsaw over our head and we had to beg him to 'please don't kill me.' I actually won the first week, the first episode.
So, you won the competition and then you get a role in Saw VI. How was the transition?
It was hard because at first I wasn't going to do the show. Actually my roommate found the audition--it was on Craigslist. I'm like 'Would Lionsgate really be posting on Craigslist? I don't think they are broke like that. Are you kidding me? Like, I'm not doing a reality show. I'm not going to be butt-naked in a Jacuzzi, drinking champagne' - I watch reality so that's all I see. I went on the audition and when I went there were only eight girls there, it was in a bar called Happy Endings in LA on Sunset and I got a call back and then it went from call back to call back to call back to come to the hotel, you're sequestered, you're not going home, to hey you made the show, give us your cell phones, iPods, laptops, say goodbye to your family and boom I was off and running and gone for five and a half weeks.
Did you audition for the show because of the prize?
When we first auditioned, we didn't know until actually the first day of taping what the prize was. We didn't actually find out that it was Saw until the first day we were taping the show. I mean, I was excited to do a movie anyway, but then they were like 'Okay, we were holding this from you but, you know, the prize is you're gonna get a role in Saw VI' and I was like 'The sixth Saw? Well, YEAH!'
How can you just let roaches crawl all over you? I can't even watch them crawl across the floor.
Honey, let me keep it 100%. I've grown up with roaches in my household and so you know, you just turn the light on, let them go where they go, and you go get your food, you know what I'm saying?
Were you presented with any options when it came to your scene in Saw VI?
Nope, no options.
Well, we haven't seen the movie yet. Maybe they're trying to build up some terror.
Yeah, they do that. To me too!
You haven't seen it yet?
No, I just saw the clip for the first time today - of me when I did the show, the Morning Show this morning and they showed the full clip. That was my first time every seeing it.
[Whispering] Do you die?
I don't know. I don't remember. So long ago. [Laughs] But they really do keep this under wraps even from the cast because when I got my script, they only gave me my scene so when I say 'Oh, I don't know what goes on in the movie,' they think I'm lying, but I'm like 'No, I really don't know.' They gave me my scenes and that was it. I didn't get the full script. So when I see it for the first time, it's going to be a surprise to me, like it is to you guys.
Are you a fan of horror?
I've always been a fan of horror. My first horror movie I watched alone, with no parents was Child's Play – I think you guys remember that movie - and that's still my favorite movie to this day. At that time I think I had a My Buddy doll and a Kid Sister. I don't know if you remember those dolls but yeah, after that, over the banister. But I still watched it by myself and then after that, I just, I loved a good scare ever since.
How'd you get so into it?
You know what really got me into horror films? Because I started reading at an early age. I started reading Stephen King books – and they'll keep you busy because those things are like the Bible times three, they're huge, they're not small things. I read the The Stand, I read Christine, I read It, I read Gerald's Game. I read all those, read them before I saw the movies. My mom trained me to do that. So, my mom always tells me 'read the books first and then watch the movies.'
What was it like being on set for the first time?
I was nervous only because I had come from a reality show and I thought I wouldn't get the same respect as someone who actually auditioned for the part, if that makes any sense. Like, I just thought they'd be like, 'Oh, she won a reality show, put her ass in the corner somewhere. Let her do what she does and send her home,' like you know? But when I got there, it was – it was just amazing. I didn't find out until later that the crew has shot all the movies, so its like family, no new crew. They're all the same for the past 5 years. And so they're just like 'Hey Tanedra, come on in' and Kevin, the director, he's freaking awesome. And Kevin was the editor on all the movies and then they had him direct IV, V and VI, so he was very welcoming. He'd actually seen the show so he already knew who I was and a couple people on the set had seen the show so they were calling me by first name and I was like 'How the hell do you know…'
Saw can be pretty terrifying. Was it traumatizing to film the movie?
You know what, I took a little bit of it – a little bit of it. I had a nightmare before. I had a nightmare that I actually died in a Saw trap and then I was the reporter reporting my own death. How whacked out is that?
How was it working with Tobin Bell?
Oh man, that sucks, because I didn't get to work with Tobin because our schedules were off so when I was in Toronto, he was back in LA because they didn't need him for another two weeks. And so I got to work with Costas [Mandylor], me and Costas worked together, and he's a hoot and a holler and he's funny and crazy and he'll distract you if you let him.
Your Daily Blend of Entertainment News
Staff Writer for CinemaBlend.