Interview: Tanner Hall Directors Tatiana von Furstenberg and Francesca Gregorini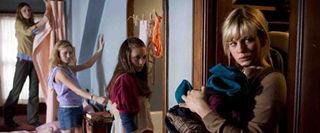 Sure, studying film in college and making shorts are great ways to build up your knowhow before diving into a full feature, but even then, committing to such an expansive project isn't easy. Long time friends Tatiana von Furstenberg and Francesca Gregorini took that exact route, both studying film at Brown University and then going on to make short films with the help of friends and family. Appropriately, the duo opted to take the plunge and go for their first feature with something that was near and dear to their hearts, a piece that not only somewhat represented their own experiences, but something they hope young women can related to as well, Tanner Hall.
The film stars Rooney Mara as Fernanda, a student returning to her boarding school, Tanner Hall, for another year. She's thrown off when her best friends, Kate and Lucasta (Brie Larson and Amy Ferguson), aren't the only ones to greet her upon her arrival. Turns out an old childhood friend, Victoria (Georgia King), is attending Tanner Hall for the first time. It's been quite a while since she and Fernanda spent quality time together, but Fernanda still vividly remembers Victoria's less than congenial behavior as a child. Sure enough, it doesn't take long for Victoria to rock the boat and cause the protective walls of Tanner Hall to crumble around Fernanda.
While Fernanda and Victoria are at the center of this piece, both Kate and Lucasta have issues of their own and, between the four, there's something for just about everyone to relate to. Even beyond the story, Tanner Hall required a significant amount of production work so von Furstenberg and Gregorini could create something that's timeless and visually stimulating as well. With the film coming out September 9th, both von Furstenberg and Gregorini sat down to run through the entire process from their earlier experience making shorts, to developing the script, to working on their shot list and beyond. Hear all about it for yourself in the video interview below.
Your Daily Blend of Entertainment News
Staff Writer for CinemaBlend.