Intruders Director Juan Carlos Fresnadillo Will Helm Highlander Remake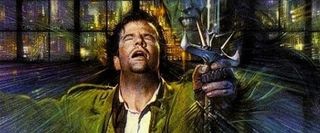 UPDATE: Summit has confirmed via press release that Fresnadillo has the job.
There can be only one… director for Highlander remake and, if a recent report from Deadline is any indication, Spanish director Juan Carlos Fresnadillo may be the one. It seems Summit entertainment has made it clear that Fresnadillo, whose latest film Intruders will premiere today at TIFF, is their top choice for the project. It was going to be Justin Lin, but he dropped out to do the next Fast and the Furious movie; the fourth film of the franchise he's directed. Personally, I think this is a major step-up for Highlander remake. Lin may have proven adept at filming supped-up street racing machines drifting and going furiously fast, but that's about it.
Fresnadillo on the other hand crafted one of my favorite foreign films of all time with 2001's Intacto. The film centered on a bizarre world of underground gambling wherein the participants look for newer and more dangerous ways to wager in order to feel more alive. The film is dark, exciting, and brilliant. I'm hoping he's able to bring that same energy and tone to Highlander. If he conceptualizes the ongoing tournament of the immortals in the same fashion as the deadly games of chance in Intacto, we are in for one intensely awesome Highlander film.
Whenever the prospect of a remake to any recognizable property comes up, it immediately precedes a discussion about the reaction of fans of the original. Luckily, remaking 1986's Highlander is far from treading on hallowed ground. It's a campy, somewhat lackluster, action film that earns a bit of favor in its central concept and its casting of Sean Connery in a supporting role. I don't think you're going to hear much uproar from the few diehard fans of this film exist over the decision to put Fresnadillo in the director's chair. Fresnadillo has already risen to the challenge of working within someone else's world when he gave us the fantastic 28 Days Later sequel 28 Weeks Later. I believe this is one of those rare occasions where the remake has the potential to be better than the original; a la The Crazies.
The screenplay for Highlander remake was written by Art Marcum and Matt Holloway who also gave us the stellar Iron Man script. Their collaboration with Jon Favreau was instrumental in his ascent from independent film auteur to Hollywood power player. I am hoping Juan Carlos Fresnadillo enjoys similar success bringing their words to life. My only concern is that this project doesn't derail the remake to The Crow to which Fresnadillo is also attached and for which he is also a great choice.
Your Daily Blend of Entertainment News
Thank you for signing up to CinemaBlend. You will receive a verification email shortly.
There was a problem. Please refresh the page and try again.