Iron Man 3 Beats The Avengers In International Box Office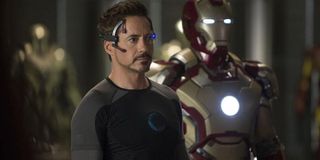 Here in the U.S. we're waiting patiently for Iron Man 3 to finally kick off summer movie season, but overseas, the latest Marvel movie is already off like a rocket. It opened in 42 international territories this weekend and made an incredible $195.3 million, beating even the $185.1 million that The Avengers made it in its first international weekend last year.
The movie, which like The Avengers is earning rave reviews, set all-time opening weekend records in Argentina, Hong Kong, Indonesia, Vietnam, Taiwan, the Philippines, Malaysia and Singapore, and was the #1 film in every place where it opened-- which, notably, doesn't even yet include huge markets like Germany, Russia and China. It was the second-biggest opening weekend of all time in Brazil. It was the biggest April opening ever in Italy. Believe me, Disney has come up with a lot of way to tout this movie's success-- and it's only going to get louder when Iron Man 3 finally opens Stateside on May 3.
We'll be talking a whole lot about Iron Man 3 in the coming week, since as screenings sell out and Robert Downey Jr. keeps hinting that he won't play the character again in another standalone movie, this might be our last hurrah. Is the record $200 million opening of The Avengers in sight? Can Iron Man 3 live up to the hype coming from so many rave reviews? Just a few more days left before we get to find out. In the meantime, revisit the latest, best trailer to keep the excitement going.
Staff Writer at CinemaBlend
Your Daily Blend of Entertainment News
Thank you for signing up to CinemaBlend. You will receive a verification email shortly.
There was a problem. Please refresh the page and try again.