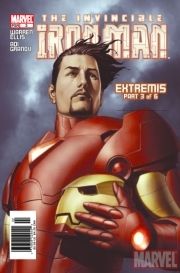 It'll take more than one lackluster movie performance and a lot of tabloid over-exposure to kill the career of Tom Cruise. He's got plenty of work, and plenty big paychecks to go along with it. The latest word on Tom is that he may be playing a Superhero. Movie Hole has dug up a story at the Post Chronicle which says Tom may be signing up to play the title role in Jon Favreau's Iron Man.
The interesting thing here is that Cruise has long been rumored to be interested in the role, and back in 2004 before Favreau came on board Tom was thought to be a lock for the part. Iron Man never really got going and Cruise's name fell off the project. But it seems now that Favreau is pushing the thing forward, Cruise is interested again. This of course flies in the face of Favreau's claim that he wants an unknown for the role, but then he's not exactly Peter Jackson or Steven Spielberg and is still subject to studio pressure for big name stars.
Right now the rumor is just that Paramount is pursuing him, and that Cruise may be interested. Whether it'll actually happen or not is another story. Is Tom Cruise as Tony Stark a good thing? Why not. He can pull off the look and craziness aside, the guy really is a decent actor. I don't think anyone is even remotely interested in Iron Man, but getting Cruise involved is definitely a good way to get the project some attention.
Your Daily Blend of Entertainment News