J.J. Abrams Explains Why He Said Star Wars Was For Boys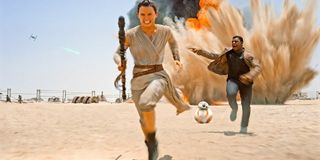 With all the interviews that have been done for Star Wars: The Force Awakens in the past few months, it's not hard to imagine that the cast members and the creative people behind the scenes of the film have probably said some things that they'd rephrase, or just plain take back, if they could. Now, director J.J. Abrams is getting asked to explain himself for something he said in an interview not that long ago.
Star Wars: The Force Awakens' director J.J. Abrams had a chat with Good Morning America recently, and said "Star Wars was always a boy's thing." While taking part in the #TwitterAwakens question and answer session where the cast and crew respond to fan questions, Abrams found himself having to explain himself to an annoyed Twitterer. And, it turns out that his reasoning actually makes a lot of sense. He also managed to gain a bit of good will by making sure we all know where his heart really lies with the matter:
I realize that this might seem like more of an excuse than an explanation to a lot of people, but I think we should give the guy a break. This interview was on Good Morning America, after all. It could have taken place after J.J. Abrams had spent a full 24 hours handling last minute Star Wars stuff and stealing five minute naps while slumped over his desk. The man's probably been exhausted to near insanity levels for two years, now.
You have to appreciate that he didn't do any hemming and hawing here, or avoid answering a question that must have been the four thousandth one he fielded for Twitter that day. It's completely possible that he left that GMA interview thinking Man, I should have said that better, and promptly slumped over asleep in whatever town car he was riding in the back of at the time.
Accepting an undertaking like continuing the Star Wars franchise must be daunting, even for someone with as impressive of a track record as J.J. Abrams. The director, writer and producer has brought us Felicity, Alias, Lost, the rebooted Star Trek movies, Fringe, a couple of Mission Impossible films, Person of Interest and Revolution. That's quite a list, and that's not even everything the man has managed to get on the air or in a movie theater in almost two decades. Forget what I said earlier about him being exhausted for two years. This man has been exhausted since 1998.
Well, J.J. Abrams, apology accepted. Now, please go enjoy a full night's sleep. We'd like to keep you around for a while.
Bachelor Nation, Gilmore Girl; will Vulcan nerve pinch pretty much anyone if prompted with cheese...Yes, even Jamie Fraser.
Your Daily Blend of Entertainment News
Thank you for signing up to CinemaBlend. You will receive a verification email shortly.
There was a problem. Please refresh the page and try again.