J.J. Abrams Finally Admits He Won't Direct Star Trek 3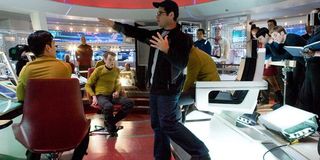 Sci-fi fans have known forever that you can't just step off the bridge of the Starship Enterprise and on to the Millennium Falcon, but J.J. Abrams has only now finally admitted it. The director of Star Trek and Star Trek Into Darkness is locked in and ready to start in January on Star Wars: Episode VII, and we've assumed since he first signed on that it meant he wouldn't be able to direct Star Trek 3. Now, after a few months of hedging, Abrams has finally admitted it too. Here's what he said to Collider, talking about the Blu-ray release of Star Trek Into Darkness:
And who will that person be? You can probably aim a dart at your favorite up-and-coming Hollywood director and assume they're a pretty good guess, based on the variety of rumors we've heard. Recent chatter suggested that the frontrunner was G.I. Joe: Retaliation (a.k.a. "Ninja Mountain") director Jon M. Chu, who was in consideration alongside Attack the Block director Joe Cornish, Fast & Furious mastermind Justin Lin and Brad Bird, the Pixar veteran who turned to live action spectacularly with Mission: Impossible-- Ghost Protocol. Then recent chatter started suggesting that Rupert Wyatt, who has attached himself to a ton of projects since directing Rise of the Planet of the Apes, might take over. It's clear that Abrams, who will still produce the third Star Trek film, will have a hand in choosing his successor. But if he's made his pick yet, he's keeping mum about it. Then again, we know perfectly well by now that he's really good at that.
My top pick to take over Trek is still Bird, for the fleet and entertaining way he handled all the big action set pieces of Ghost Protocol, and the devotion he's shown to character in his three animated films, The Iron Giant, The Incredibles and Ratatouille. He knows what it takes to assemble a team on screen and establish their relationships in the midst of intense action, something Abrams did incredibly well in the first Star Trek. Revisit one of the many great scenes from Ghost Protocol below, and let me know if you buy my argument in the comments.
Your Daily Blend of Entertainment News
Staff Writer at CinemaBlend