Will G.I. Joe's Jon M. Chu Take Over Star Trek 3?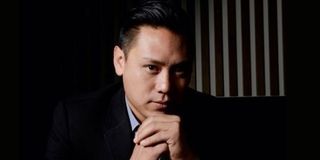 Hollywood's a crazy place. One day you're following around Justin Bieber to make a concert doc designed to make tweens scream, the next you're up to helm one of the biggest action franchises going. It appears this is where director Jon M. Chu has found himself as Latino Review reports Chu is on the short list for directors of Star Trek 3. Also rumored for the sequel to Star Trek into Darkness are Attack the Block's Joe Cornish, Fast & Furious 3-6 director Justin Lin, and Brad Bird, who made the incredible leap from animation helmer to live-action auteur with Mission: Impossible – Ghost Protocol.
This news flies in the face of Star Trek star Zachary Quinto's insistence that J.J. Abrams, who helmed the first two films in this rebooted franchise, would be back on board for its third installment. But this was pretty expected as Abrams has moved on to Star Wars: Episode VII, which has a production schedule that would collide horrendously with Star Trek 3's plans to open in 2016 to commemorate the 50th anniversary of the television series' debut. For now, Abrams is only committed to be a producer on the film. So let's consider these contenders, shall we?
Back in May, Cornish's name surfaced as a possible helmer for Star Trek 3. While Attack the Block earned rave reviews, inspired fervent fandom and did deal with alien invasion, it is Cornish's only feature film and cost just $13 million to make. Could Paramount Pictures possibly trust him enough to hand him a tent pole that will likely boast a budget more than ten times that? Personally, I'd call him the long shot in this race.
Lin seems to have a far better shot at the brass ring that is Star Trek 3 as he almost single-handedly revived the Fast & Furious franchise after its lackluster part two with his embrace of outlandish storytelling and construction of truly mind-blowing and physics-defying action sequences. Frankly, after the whipping Star Trek Into Darkness took from Trekkies and some critics, the franchise could use a bit of a makeover. Plus, with Fast & Furious 6 having so far accrued $771 million worldwide, Lin has proof that his brand of bonkers action has broad commercial appeal. Plus, with him off of Fast & Furious 7 he just might be available.
But most would agree Bird is in a league of his own. Having helmed contemporary classics like The Iron Giant, The Incredibles and Ratatouille, Bird showed how he could raise the bar on a genre cluttered with cash-grab crap. Could he do the same for sci-fi? Obviously, Bird knows how to make movies with broad commercial appeal, and thanks to Mission: Impossible – Ghost Protocol he has experience in picking up where a film series left off. But would he be interested? I mean, the guy turned down Star Wars and is currently gearing up for two curious projects, 1906 and Tomorrowland, which is preparing to film and will reveal some details at the Disney convention D23 this weekend. As much as we're on board for him to direct pretty much everything, it's hard to say how on board he is for that.
Lastly there's Chu, who might be the dark horse here, as Latino Review claims he's at the top of this short list. The guy came up directing the dance-centered Step Up movies. Then, after helming Justin Bieber: Never Say Never, he made the leap to action with G.I. Joe: Retaliation, a movie that gave me all the feelings. It had a hefty budget of $130 million, but went on to earn an impressive $371 million worldwide-- and, importantly, earned it for Star Trek's studio Paramount. Clearly Chu can handle a big budget, is comfortable constructing stellar action sequences (ninja mountain, anyone?), and has proven his commercial appeal. Lin and Bird are definitely better known names, but Paramount could probably get Chu for cheaper. And he seems totally capable of taking his action-shooting prowess where no man has gone before.
With Roberto Orci and Alex Kurtzman officially signed on to write Star Trek 3, we could get a follow-up on this director race soon. Stay tuned.
Staff writer at CinemaBlend.
Your Daily Blend of Entertainment News
Thank you for signing up to CinemaBlend. You will receive a verification email shortly.
There was a problem. Please refresh the page and try again.