J.K. Simmons Reuniting With Whiplash Director For A Musical, Get The Details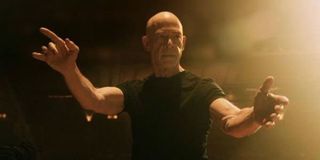 Earlier this year, J.K. Simmons walked away with a well-deserved Academy Award for Best Supporting Actor for his scorching role in Whiplash. While that movie is set in the world of music—he plays a vicious drum instructor—he's set to reunite with the director who helped him win an Oscar, only this time they're making a full on musical.
The Hollywood Reporter learned that Simmons, who was most recently seen on screen as the most fun part of Terminator: Genisys—he plays a drunken, bumbling detective with a personal stake in the main action—will team up with Whiplashdirector Damien Chazelle for La La Land. That's not too uncommon. Actors and directors make multiple movies together all the time, and they obviously have something special together creatively. The fact that they're working on a musical, however, is a bit unorthodox. We're not exactly in the genre's heyday, but with these two involved, we're definitely down to give it a shot. Oh, who am I kidding, I'll watch any musical.
If the idea of Damien Chazelle and J.K. Simmons making a musical together isn't enough to pique your interest, the rest of the cast is also a head turner. La La Land will be fronted by Ryan Gosling and Emma Stone. I had no idea either of them could sing, but they appeared together in Crazy Stupid Love where they had a strong romantic chemistry, so why not.
The plot of La La Land is said to be a modern interpretation of classical Hollywood musicals and follows what I imagine is struggling a jazz pianist, played by Gosling, through the nightclubs of Los Angeles. He meets a young aspiring actress, played by Stone, and the two fall in love, but as they start to attain success in their respective entertainment fields, they are faced with hard choices that may tear them apart. There is certainly room for a few stirring ballads and torch songs with this material.
Simmons plays a character only known as "Boss," who probably has something to do with running one of the clubs where Gosling's character plies his trade. Or maybe he's a terrifying mobster. Stone's ingénue will reportedly also have a trio of roommates to harmonize with, played by Jessica Rothe, Sonoya Mizuno, and Callie Hernandez.
Chazelle has been interested in getting La La Land made since before he started work on Whiplash, which was based on his own short. When you direct a movie that wins three Oscars, you can do whatever you want afterwards, so what the hell, might as well make a musical. It's a bold choice, but maybe he can add some more awards hardware to his collection and revitalize the Hollywood musical while he's at it.
La La Land must be fairly far along the pre-production route as it seems like it has most of the cast in place. Summit has even scheduled a release for next summer, and we can expect so see and hear this on July 15, 2016.
Your Daily Blend of Entertainment News