Jack Black Fights A Giant Robot In The New Gulliver's Travels Trailer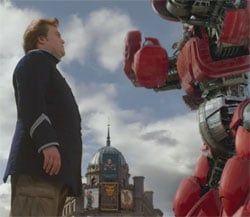 Here's the thing about this new trailer for Gulliver's Travels: Yes, it's awful, but I'm not entirely sure it's the movie's fault. The big problem with the trailer isn't really so much what's happening on screen as the almost willfully awful music blaring behind it. Even worse than the music used is the voiceover, which seems as though it was written and performed to remind people of every bad babysitting movie The Rock has done lately. I mean granted, the movie looks like a bunch of bad CGI slapped on the screen, but it's not entirely horrible if you plug your ears and ignore most of the sound and if you can overlook the generally awful away in which its cut and that annoying, obligatory seen at the end where Jack Black does his increasingly less charming rock singer thing.
Ok maybe there's no hope here after all. I've talked myself out of it. Jack Black actually fights a transforming robot in this trailer. There's no way that can be good.
Still at least this new Gulliver's Travels trailer gives us a better feel for the story and sort of makes sense, unlike the other one. Watch:
The most frustrating thing about this to me is that it really seems like there is a good movie to be made out of Jonathan Swift's Gulliver's Travels story. They should have approached it like Will Ferrell's Elf but instead they seem to have used Meet Dave as a template. Maybe this is the sort of thing Robert Zemeckis's creepy motion capture should tackle, instead of live action Jack Black.
Your Daily Blend of Entertainment News