Jaime King Is Brigitte Bardot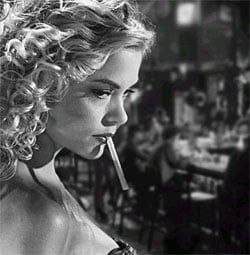 Fanboys director Kyle Newman is making the jump from Star Wars fetishizing to iconic French fashion models. With the help of our outback riding reader Pat, we uncovered an interview in the Victoria, Australia publication InPress, wherein Newman reveals that he's working on a Brigitte Bardot biopic.
Newman says that though the project is currently in development, he's already found his star: his wife Jaime King, who met Newman on Fanboys and married him soon after.
King was last seen running from murder in My Bloody Valentine and being utterly wasted in Frank Miller's The Spirit, but don't hold that against her. In fact, forget that person altogether and picture her at her best, oozing sex and seduction as Goldie in Sin City. That's exactly the kind of actress you want playing someone like Bardot. That's perfect casting.
Your Daily Blend of Entertainment News