Jake Gyllenhaal, Amy Adams, Joaquin Phoenix Lining Up For Nocturnal Animals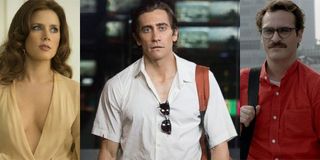 Nocturnal Animals already sounds as if it could be a future awards contender. Not only will the decadently stylized eye of director Tom Ford oversee it, but it has now amassed an all-star cast of Hollywood talent – including Jake Gyllenhaal, Amy Adams and Joaquin Phoenix - that immediately sets it apart.
An adaptation of Austin Wright's 1993 book "Tony and Susan," Nocturnal Animals will tell the story of Susan, a woman who receives a mysterious manuscript from her ex-husband asking her opinion on it. The novel follows two narrative paths from that point, one about Susan's ex-husband's book (which is about a family vacation that soon goes awry and results in death and violence) and of Susan herself, who thinks back on her first marriage and various key truths. But who will be playing the key roles of this interesting drama? Well, at the top of the list is Jake Gyllenhall, who The Hollywood Reporter says is currently circling the movie's male lead.
Jame Gyllenhaal appears to have become more selective of his roles over the last few years. The likes of Source Code, End Of Watch, and Enemy were much more avant-garde and experimental than his previous mainstream excursions. But it was 2014's Nightcrawler that truly saw him adorned with critical praise, and even suggests that Gyllenhaal is on the brink of blossoming into one of the most idiosyncratic actors in Hollywood. Nocturnal Animals seems like a project that could easily fit into that mold - though it's unclear if he will be playing the ex-husband in the film's outer narrative or the father in the novel within the movie.
It's not explicitly stated, but it seems that Amy Adams is currently in talks to play Susan in the Tom Ford film. In recent years she has managed to develop an eclectic career that incorporates entertaining mainstream fodder (The Muppets, Night at the Museum 2) and blockbusters (Man of Steel) with character driven releases from some of the most acclaimed filmmakers in Hollywood (The Master, Her, American Hustle, The Fighter and Doubt). Simply put, she's arguably the most exciting actress in cinema today, and anything she stars in is immediately improved with her presence.
Making Amy Adams' presence all the more exciting is that she might be starring opposite the most exciting actor in cinema today again as well - Joaquin Phoenix. The Inherent Vice actor is also currently being lined up for a leading role in Nocturnal Animals - though like the case with Jake Gyllenhaal it's not entirely clear which. Phoenix has effortlessly brought his raw intensity to leading roles in The Master, The Immigrant, and Her in just the last few years, and in the process has developed into a unique cinematic presence, who can morph from a drug-addled detective to a lovelorn romantic in the blink of an eye while never losing his charisma.
All in all, it's safe to say that Nocturnal Animals, which is also eyeing up Aaron Taylor-Johnson for a role, is on a path to become something very special. With its intriguing premise, as well as both Tom Ford (A Single Man) and an all-star cast on the brink of signing up, it's safe to say that the film is shaping up very nicely indeed.
Your Daily Blend of Entertainment News