James Cameron Just Delayed Avatar 2, Here's Why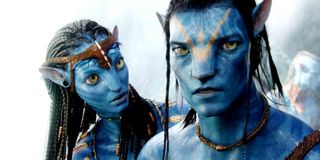 It's been a while since we've heard anything on Avatar 2 or any of the other upcoming installments, and that's because it's taking James Cameron a lot longer than he expected to write the script. Though he original projected the sequel to one of the biggest movies of all time to be released in 2016, he now reveals it will be pushed back a year to 2017.
When the director was over in New Zealand to promote the local film industry with The Hobbit's Peter Jackson and other directors, he dropped this bomb. As quoted by AP, he said:
Cameron plans to film the next three Avatar films consecutively, which means that the other two films will be pushed back, as well. Understandably, he described the process as "very involved," as he ultimately wants to seamlessly link each film into the next one. He elaborated:
James Cameron had previously divulged some details on the story he was working on, and it's no wonder he's been bogged down by the logistics of so many moving parts. In an earlier interview with AP, he described it mainly as "the family that [Jake Sully] creates on Pandora" and "his extended family." Though, there will also be some underwater scenes involving "indigenous ocean cultures."
Looking back on the first Avatar, it was the biggest thing to hit theaters five years ago. Not only did it dominate the box office, but it went on to become the highest-grossing movie of all time. It also helped further the advances of motion-capture technology and the film snagged three Oscars. But for some reason it seems like the hype has completely died out. Cameron and 20th Century Fox haven't been doing all that great a job at keeping the buzz going around their three new Avatar films, and people have already moved onto bigger things. (Hello, Marvel movies.)
Is Avatar 2 too late to enter the game at this point? It's leading man, Sam Worthington, has fallen a few too many notches down the ladder of stardom, while Zoe Saldana has moved on to playing Gamora in Guardians of the Galaxy and Uhura in the Star Trek franchise. Speaking of which, getting her to film three large installments of a grandiose sci-fi franchise while she has contractual obligations elsewhere is surely playing some part in the production snags.
What do you think? Are you still excited to see more from Avatar? And are you bummed that you have to wait even longer now?
Your Daily Blend of Entertainment News