James Cameron Passing One Of His Passion Projects To Robert Rodriquez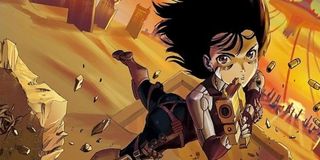 Passion projects for filmmakers are hard to let go. For example, James Cameron has been talking about making a live action adaptation of the Japanese graphic novel Battle Angel Alita for what feels like forever, despite the fact that he has three Avatar sequels currently in the works. Well, it looks like he realized that it wasn't going to happen anytime soon and handed the project off to another director.
According to Deadline, Cameron and producer John Landau are talking to Spy Kids and Machete helmer Robert Rodriguez to take the reins on Alita: Battle Angel, as the live action version of Yukito Kishiro's graphic novels will reportedly be called. In a statement, Cameron said:
First appearing in 1990, the manga series is set in a post-apocalyptic 26th century and focuses on Alita, a female cyborg with amnesia who is rescued from a junk yard by a doctor and then rebuilt. All she can remember is a badass set of martial arts skills, and she becomes a "hunter-warrior," which is essentially a bounty hunter, taking out vicious criminals while she tries to remember who she is and where she came from.
This sounds like something that would have been right up James Cameron's alley, and it's a shame that it's not going to go down like that. But the demands of following up the highest grossing movie of all time—and not just following it up with a single movie, but with three that are all going to be equally as massive—appear to have finally proven to be too much. Avatar 2, 3, and 4 are slated to film back-to-back-to-back, and will take up the bulk of the director's attention for the foreseeable future, leaving little room for anything else besides living, breathing, eating, and sleeping the far away world of Pandora.
It's not too surprising that Cameron passed the torch to someone else. As far back as 2012, he has said that Alita was a low priority and he didn't know when he would get to it. As a producer, he'll still get to have a hand in it, but it will actually get made in a timely fashion, too. It's a win win.
As a filmmaker, Robert Rodriguez has always been rather open to adapting new technologies; he leaped on filming with digital well before the bulk of the industry. For his part, he seems pretty psyched to tinker around with all of the cutting edge technology and CGI toys that Cameron and company have access to.
Your Daily Blend of Entertainment News
Thank you for signing up to CinemaBlend. You will receive a verification email shortly.
There was a problem. Please refresh the page and try again.