Machete Kills Again In Space Is Actually Happening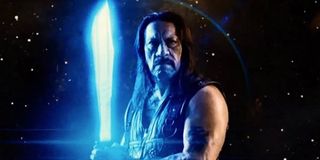 If you saw Machete Kills in theaters, then you probably also saw that hilariously ridiculous trailer for something called Machete Kills Again…in Space. At the time, we thought that was all we were going to get of the supposed third installment of the Danny Trejo-led franchise, but the man himself has confirmed that this is in fact in the works. Yes, we will be seeing Machete going berserk…in space!
Trejo told Halloween Daily News that he and Robert Rodriguez, his Machete director, will be filming Machete Kills in Space. (Apparently they thought the "Again…" part was unnecessary.) We won't even have to wait too long for it, as he also said that they will be "working on it this year." If Trejo can't land a part in Star Wars: Episode 7, 8 and/or 9, he'll at the very least be able to brandish a lightsaber machete.
So, what will this new installment be about? Well, there was a lot going on in that trailer. The one that screened in a post-credits segment was merely a teaser to the video that landed online shortly afterwards. If that footage is any indication, Machete Kills in Space will see Machete, for some reason, shooting off towards the stars to save an enslaved planet and get all the space babes. "It's all galactic and shit," Michelle Rodriguez so eloquently puts it, in her role as the eye-patch-wearing Luz. The trailer said that Alexa Vega and Lady Gaga will return, having portrayed Killjoy and La Camaleon, respectively, in Machete Kills. We also caught glimpses of Sofia Vergara's Desdemona with her explosive cleavage in the first teaser. However, the extended trailer also joked that Leonardo DiCaprio was the one playing the Darth Vader-looking fellow, and Justin Bieber was playing the android. So, let's take the casting with a grain of salt... or six for the time being.
Will it be awesome, or will it be like that time we saw James Bond go to space in Moonraker? In other words, will it be completely unnecessary? We shall see. You can watch the Machete Kills in Space trailer below to get a taste of the crazy shenanigans that are coming our way.
If all goes well and the next installment starts filming this year, as Danny Trejo said, then we could be seeing Machete Kills in Space in 2016. This concept seems so crazy and ridiculous that it just might work.
Your Daily Blend of Entertainment News
Thank you for signing up to CinemaBlend. You will receive a verification email shortly.
There was a problem. Please refresh the page and try again.