James Franco To Reunite With Danny McBride For As I Lay Dying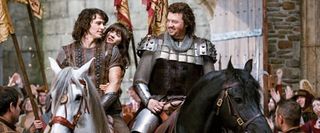 Among his many varied projects that may or may not make any sense to common people like you and me, James Franco is planning an adaptation of As I Lay Dying, William Faulkner's legendary novel told by 15 different narrators, about a Mississippi family's effort to bury their matriarch according to her wishes. Franco had been planning to shoot the film last summer, with a big-name cast to go along with it, but the fates aligned to keep him away from the project-- until now.
According to Showbiz 411, Franco is finally lining up the film for an October shoot, on location in Mississippi. The cast is now set to include Danny McBride-- who co-starred with Franco in Pineapple Express and Your Highness-- along with other familiar faces like Tim Blake Nelson, Logan Marshall Green (the Tom Hardy lookalike from Prometheus), Jim Parrack and Ahna O'Reilly, who appeared in another Mississippi-set period film, The Help.
So he's got his cast lined up, a location, and funding from Avi Lerner's Millennium Films-- looks like full speed ahead. Of course, we have no idea how this might affect his most recently rumored project, an utterly bizarre sounding biopic about both himself and Lindsay Lohan. But given Franco's reputation for constantly working, he could probably finish that one easily before heading to the As I Lay Dying set in October. You just never know what that kid's gonna do next.
Your Daily Blend of Entertainment News
Staff Writer at CinemaBlend