James Marsden Takes Over For The Late Paul Walker In The First Trailer For The Best Of Me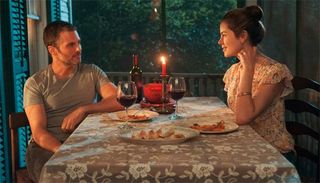 Above is the trailer to The Best of Me, the latest Nicholas Sparks adaptation taking aim at your tear ducts with extreme prejudice. Sparks' work tends to be either serious romance for teens or mature couplings between older people, but here, you're getting a twofer: the story begins at youth, then eventually skips ahead 21 years. A little something for everyone, really, in one of the projects Paul Walker tragically left behind before his passing.
That's James Marsden as the very Nicolas Sparks-sounding Dawson Cole, who is working on an oil rig after spending a whole bunch of time behind bars. Marsden took this role over for the late Walker, who was originally slated to appear in this and Agent 47 before his untimely death. And as far as looks, it's a lateral move: both are super good looking guys, and neither looks like they're actually in their forties. Marsden at least could use a big break. The guy is handsome and funny, but his IMDb page reads like a game of blind hopscotch.
As it turns out, in his youth Dawson was a boy from the wrong side of the tracks who fell for a pretty rich girl. When he was younger, he was the much more blond-looking Luke Bracey, chasing the unattainable Amanda Collier (Liana Liberato). But parents just don't understand! They can't be together because Amanda's dad (Jon Tenney) is a real stick-in-the-mud, and because Dawson gets himself involved with "the wrong people," seized by DEA agents in a situation that probably involved him taking the fall for someone else. So far, so familiar.
Enter Marsden. Somehow the older Dawson turns to the improbably single Amanda. Lucky for Dawson, she's now the gorgeous Michelle Monaghan. And lucky for Amanda, he has gotten even better looking, as she claims – which is interesting, considering Bracey looks a whole lot more like a young Paul Walker than a young James Marsden. Walker had those gorgeous blue eyes, but Marsden's cheekbones are almost saintly. We're talking two entirely different types of dreamboats here. This is an absolutely brilliant trailer because it contrasts Marsden in a sweaty-but-not-gross sexy undershirt with recent instant-makeout-classic All Of Me by John Legend. Let whomever did this cut all the trailers from now on, this trailer is a serious deal-sealer.
Relativity is releasing The Best Of Me on October 17th this year, where it has some very interesting competition. Some of you dudes will want to see the Brad Pitt-in-a-tank movie Fury, and maybe some of you will opt for Dracula Untold. The kids will be at Book Of Life, and the weird loners will be at Nightcrawler. But your girlfriend is taking you to see Cyclops mack on Michelle Monaghan, and that's final. Deal with it.