Janis Joplin Biopic Producers Sue To Stop The Janis Joplin Biopic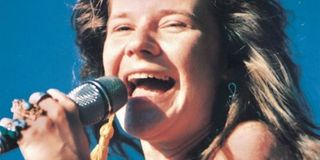 Sometimes it feels like God doesn't want there to be a Janis Joplin biopic. It's already been a bumpy ride for Get It While You Can, now set to be directed by Dallas Buyers Club helmer Jean-Marc Villeu and starring Amy Adams, but it just hit another big speedbump as the producers of the picture have actually sued to stop the production.
According to The Hollywood Reporter, LKL Productions, along with a Swiss company called Silver Reel, have brought a suit against Ron Terry, who wrote and is producing the picture, and two other companies. The report states that the complaint, filed Wednesday in Los Angeles Superior Court, alleges that Terry breached their option agreement for the script, and they're seeking an injunction to halt production.
In August 2014 they say they paid $117,000 for exclusive rights to the script, which Ron Terry wrote with Teresa Kounin-Terry, his wife. However, this agreement depended on restructuring $1.7 million worth of loans Terry received- and it turned out that the terms on these loans were apparently a wee bit janky, and include one of the issuers demanding 235% interest. You can understand why they might be upset. But while the loans are still unpaid, Terry and others have also reportedly continued to shop the script around Hollywood, which LKL Produtions is obviously not too happy about.
Basically, this is a huge, twisted financial mess, yet another roadblock to an already troubled production, and one more obstacle in the long battle to bring the legendary rock and roll star's story to the big screen. Get It While You Can is slated to film in the second half of 2015, but it's been in the works since 2010. That's when Adams joined the party. At that stage, City of God director Fernando Meirelles was attached to the project, though in the interim that job has belonged to Lee Daniels (The Butler) and Catherine Hardwicke (Twilight) -two very, very different filmmakers.
Joplin's chaotic, troubled life came to an end in 1970 at the age of 27 due to a heroin overdose, and the quest to bring her story to life onscreen has been almost as dramatic as the real thing. Get It While You Can is not even close to the first or only attempt to tell Joplin's story. In 2003, Renee Zellweger was attached to play the bluesy singer in another production, and producer Peter Newman has been trying to mount a movie based on a script from Rolling Stone writer David Dalton for damn near 15 years. That version has seen Pink, Zooey Deschanel, Lili Taylor, and Tony Award-winner Nina Arianda all penciled in for the lead role at various points, and had (maybe still has?) Martha Marcy May Marlene director Sean Durkin at the helm.
Maybe Get It While You Can will be the movie that finally brings Janis Joplin back to life on the silver screen, but at this rate it very well may be quite a while before we see it. At what point do you cut and run from this disaster? Maybe Joplin's ghost haunts anyone who has anything to do with dramatizing her story, which would certainly explain the troubles.
Your Daily Blend of Entertainment News
Thank you for signing up to CinemaBlend. You will receive a verification email shortly.
There was a problem. Please refresh the page and try again.