Amy Adams Is Playing Janis Joplin, Get The Badass Details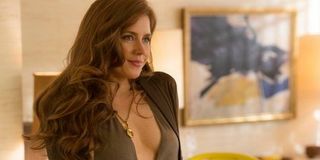 A Janis Joplin biopic has long been touted, and one finally seems to be moving ahead with purpose after it was reported that Amy Adams will star as the legendary singer. There also appears to be a new director for the film too as Jean-Marc Vallee is confirmed to be in talks to helm.
Today, THR is reporting that Jean-Marc Valllee is in talks to direct the Janis Joplin biopic, which appears to confirm a hint dropped by the Wild director earlier this year. During an IndieWire interview at TIFF, Jean-Marc Vallee was asked what future projects he currently has in the pipeline, and he cautiously answered, "next year I've got a rock-n-roll film happening. I can't talk about it, though."
Amy Adams' involvement isn't actually that much of a surprise. She has been linked with a role as the singing sensation for several years now. In fact during the time that she has been attached to the project she has seen various directors come and go. These have included City Of God's Fernando Meirelles and Precious' Lee Daniels, both of whom are believed to have been worked their magic for a brief period before moving on to new cinematic pastures.
However it sounds as if Jean-Marc Vallee has put all hands on deck as he starts to maneuver his troops in order to finally bring a Janis Joplin biopic to the big-screen. Indiewire have claimed that a budget of around $15-$20 million has been ear-marked for the film, while Craig Borten and Melisa Wallack, who previously wrote Dallas Buyers Club together, which Jean-Marc Vallee also directed, have been hired to work on the film's script. Ron and Theresa Kounin-Terry wrote an earlier draft back when both Lee Daniels and Fernando Meirelles flirted with the film. Janis Joplin's trials and tribulations are certainly ripe for a cinematic adaptation. Not only is she regarded as one of the greatest live performers of all time, which saw her labelled as the female Elvis, but she was only in the public eye for four years before she died from an alleged heroin overdose at the tender age of 27.
It sounds as if Jean-Marc Vallee's Janis Joplin picture could come sooner than you think too. The Canadian filmmaker has recently finished work on Demolition, which stars Jake Gyllenhaal, Naomi Watts, and Chris Cooper, and there now appears to be a rather big space in his diary, which his work on the musical tale could fit right into. While the budget isn't substantial, Jean-Marc Vallee proved with Dallas Buyers Club that he can work wonders with a limited amount of money. Thanks to his work with Matthew McConaughey, he also showed that he is able to coax dazzling and career-defining performances out of his actors too and Amy Adams will be chomping at the bit to prove that she can reach these heights. It's still clearly way too early to tell, but all the raw ingredients are there for the film to be an Oscar contender in a few years time.
Your Daily Blend of Entertainment News