Jason Reitman Rounds Out Labor Day Cast With Moonrise Kingdom Star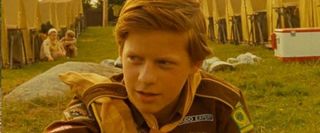 As follow-up to his critically praised dark comedy Young Adult, writer-director Jason Reitman has chosen to adapt Joyce Maynard's 2009 coming-of-age novel Labor Day. Reitman has already secured Gattlin Griffith, who recently worked opposite Angelina Jolie in 2008's The Changeling, to star as Henry, a 13-year-old boy raised by an agoraphobic mother who fatefully crosses paths with a wounded man, who turns out to be a wanted killer. Bringing major star power and likely Oscar appeal is Kate Winslet as fretful single mom Adele, and Josh Brolin as Frank Chambers, the convict who unexpectedly changes their lives for the better.
THR reports casting for the production has finally concluded with Alexie Gilmore, Lucas Hedges, and Micah Fowler joining the ensemble that also includes James Van Der Beek and Clark Gregg. Newcomer Fowler will play a boy named Barry, whose mother Evelyn is friends with Adele. Gilmore, who can be seen in Bobcat Goldthwait's God Bless America, will play Henry's step-mother Marjorie, while Hedges will play her son. If Hedges most recent role—as the mean little khaki scout with an axe to grind, Redford—in Wes Anderson's Moonrise Kingdom is anything to go by, we can assume he and Griffith will have a contentious onscreen relationship at best.
While I'm unfamiliar with this novel, Reitman has an impeccable taste for adaptations, and the cast he has garnered proves Labor Day is something special. Even in his short career, he has shown a remarkable ability to find poignant moments within comedies, and infuse dramas with a lithe humor, as he did with the six-time Oscar nominated Up in the Air. So, while Labor Day is currently being categorized as a drama, I expect Reitman—in league with his promising cast—will ultimately offer something more layered and complex than this simple description can detail.
Labor Day is now shooting in Massachusetts.
Staff writer at CinemaBlend.