Jason Statham's Safe Delayed To 2012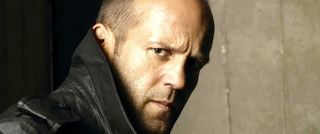 I'm starting to wonder if Jason Statham still qualifies as an actor who happens to do films for Lionsgate, or if he's officially crossed over into indentured servant territory. Between Crank, War, Crank 2, and The Expendables, they seem to have a major hold over this guy. So it was unsurprising to learn that his upcoming film Safe would also be a Lionsgate production. At this point, it wouldn't surprise me if you told me Statham slept on a couch at Lionsgate's head office. I'm kidding of course; as the man could kick me in half without trying, I find it necessary to emphasize that.
But what is surprising is the news from Variety that Lionsgate has delayed the release date of Safe by four months; moving it from October 2011 to March 2012. Plot details on Safe indicate that Statham will play an agent out to rescue a kidnapped little girl. Not terribly original by any stretch of the imagination. Boaz Yakin (Remember the Titans) is directing Safe and also wrote the script. But why is Lionsgate so keen on pushing back this movie? The films it would have been competing with in its original October 28th slot were Universal's Johnny English Reborn and FilmDistrict's The Rum Diary.
I'm not sure about this play by Lionsgate. Were the film released on its original date, it would easily dominate the other films released that weekend. Johnny Depp is a big box office draw, but The Rum Diary is not your typical crowd-pleaser. I also find it hard to believe that audiences will be clamoring to see a sequel to Johnny English, a film no one saw when it was released eight years ago. So instead, they set themselves up to contend with an animated Dr. Seuss adaptation, a Paramount Hansel and Gretel reimagining, and a Warner Brothers release?
One of two things has to be going on here. It could be that Lionsgate sees the need for reshoots or better post-production work on Safe which would provide the motivation for their delaying the release. Another possibility is that they are worried about the fact that Paranormal Activity 3 hits theaters on October 21st. They may be worried that Halloween weekend will provide just as much of a draw for Paranormal Activity 3 as would its opening weekend. You know what, I'm starting to see the logic here.
Your Daily Blend of Entertainment News