Jason Statham Still Really Wants To Make Crank 3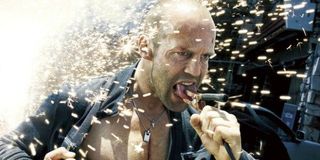 With Furious 7 set to make an eye-watering amount of money over the next few days, Jason Statham has decided that this is the pristine time to reveal that he wants to make a third Crank film.
During his chat with Entertainment Weekly Jason Statham confirmed that he has been pining for Crank 3 for years. In fact the English actor even gave an update on what the status is for the potential film. Statham revealed, "They have a loose idea." But he admitted that the film's writers and directors Mark Neveldine and Brian Taylor haven't actually written a script for the film yet.
But what are the chances that Crank 3 will actually happen? Well the first Crank film grossed $42 million from a relatively modest budget of $12 million, which was enough to convince Lionsgate to order a sequel that actually proved to be a financial disappointment. Its budget was raised to $20 million and it only grossed $34 million, which means that it will take a huge leap of faith for the studio to order another.
In the Crank series Jason Statham starred as Chev Chelios, a British hitman who in the first film is poisoned and then has to keep himself alive by maintaining his adrenaline. In the follow-up Chev Chelios' heart is replaced by a battery and he only has 60 minutes to replace it before it drains completely. Both films are silly, ridiculous, and a whole lot of fun.
During his chat, Statham admitted that he only got his upcoming role in Spy opposite Melissa McCarthy, Jude Law, Rose Byrne, and Bobby Cannavale because director and writer Paul Feig is such a huge fan of the films. Unfortunately, despite the sensational cast and the intriguing premise, which will see Melissa McCarthy's desk-jockey being forced to become a field agent, the first trailer for Spy proved to be a tad disappointing. You can check it out below.
Jason Statham's most recent film though, Furious 7, not only looked scintillating because of its impressive trailers but it also proved to be a rollicking and exhilarating feature film too. And it's no surprise that Furious 7 is allegedly going to make an obscene amount of money at the box office when it's released this weekend. In fact some box office experts have even predicted that it will make in excess of $250 million around the world over the next few days. Which could help Staham's cause for the proposed Crank 3.
Your Daily Blend of Entertainment News
Thank you for signing up to CinemaBlend. You will receive a verification email shortly.
There was a problem. Please refresh the page and try again.