Jeff Bridges And Michael Douglas Up For Comedy Dirty Grandpa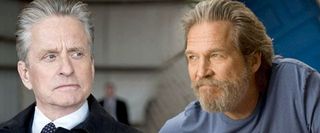 As leading men age, they often fall into one of two categories: the distinguished older gentleman like Connery, and the goofy grandpa with a lovable but gruff demeanor like William Shatner. Curiously, it is a man from each category that's up for Universal's in-development comedy Dirty Grandpa.
Penned by John Phillips, who has been contracted to create Bad Santa 2, Dirty Grandpa will follow the likely R-rated exploits of an uptight, soon-to-be wedded young man and his lusty, widowed grandfather during a spring break in Florida that neither is likely to forget. Vulture reveals Universal has offered the title role of this wild comedy to none other than Jeff Bridges, who has a storied history of comedic turns. However, the site also mentions that should Bridges decline the role, the studio's second pick is the ever-dapper Michael Douglas.
Granted, both are compelling leading men, but their types are so different that the casting leap from one to the next is a bit of a head scratcher. For his part, Bridges has become best-known for his roles as haggard men with beards, like his Oscar-nominated performance of the grizzled grump Rooster Cogburn in True Grit, or his Oscar-winning turn as crotchety country crooner Bad Blake in Crazy Heart, or his iconic creation of Jeff "The Dude" Lebowski in The Big Lebowski. Douglas, who made his name playing men of power with serious vices in Fatal Attraction and Wall Street, is still regarded as a sharp dresser and so is typically cast as a man of influence as he was in Soderbergh's woefully passed-over thriller Haywire. Of course, he did memorably schlub it up for the impeccable 2000 comedy Wonder Boys, so I won't dare say he'd be miscast in Dirty Grandpa.
Of course, knowing so little about the script, it's hard to say who'd be better suited to star, but both offer intriguing possibilities. Bridges with he easy charm would be totally believable as a wily widower cutting a bon vivant's path through Spring Break. On the other hand, Douglas possesses a kind of smarmy yet seductive appeal that could prove comedically combustible when paired with a younger and more prudish counterpart. In short, Dirty Grandpa would be lucky to get either of these sixty-something silver foxes, and we'll be curious to see how this shakes out.
Your Daily Blend of Entertainment News
Staff writer at CinemaBlend.