Jennifer Aniston Is Adam Sandler's Pretend Wife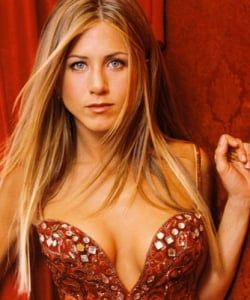 Given the ongoing tabloid narrative about poor, lonely, loveless Jennifer Aniston, it seems that she's either tempting fate or giving a giant middle finger to the media by taking on a new project called Pretend Wife. Surely we're about to be deluged in a series of media stories about how the plot of Jen's new comedy mirrors her own sad lonely life, but either she doesn't care, or enjoys running the tabloids around in circles while she's married to Gerard Butler or whoever.
But I digress. No one actually knows the plot of Pretend Wife, but given both that title and working title Holiday in Hawaii, it's not too hard to guess where this story will go. Aniston will star opposite Adam Sandler, and Variety reports that frequent Sandler collaborator Dennis Dugan (You Don't Mess with the Zohan, I Now Pronounce You Chuck & Larry) is in line to direct. The plan is to release the film just before Valentine's Day in 2011, so I'm betting on a more Wedding Singer/50 First Dates kind of Sandler. Was Drew Barrymore just busy this time?
Your Daily Blend of Entertainment News
Staff Writer at CinemaBlend