Jessica Chastain's Paycheck For The Martian Was Shockingly Low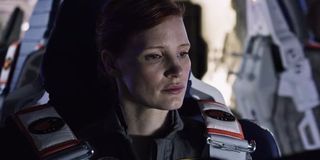 While Hollywood salaries have been a big source of discussion as of late, not a lot of specific examples have been given that truly show the discrepancy between professionals of differing genders. That's about to change, as Jessica Chastain has set the record straight with some shocking figures indicating an extremely low payday for The Martian.
While speaking with The Huffington Post, Chastain took some time to discuss the gender gap in both material and compensation for women in the historically male dominated industry. More specifically, she's absolutely thrilled that the issue has gained such traction through all walks in the industry. Though the one huge weakness that Chastain mentions directly in her call to fight the gender gap in Hollywood: mis-information.
As proof, Jessica Chastain mentioned a news report that she says incorrectly had her making an undisclosed amount, when in reality she made less than a quarter of that amount. Through some additional digging, The Playlist managed to deduce that the news report The Martian's star might be talking about had her pegged at a $7 million paycheck for being a part of the Ridley Scott film. By her own math, her paycheck for the film would have been less than $1.75 million; which is ridiculous when compared to Matt Damon's potential salary range of $15 to $25 million.
While the gender gap is a pressing matter in today's Hollywood, there is one piece to the issue that still calls doubt into Jessica Chastain's argument about her pay on The Martian. The fact of the matter is, the role of Commander Melissa Lewis was substantially smaller when compared to that of Mark Watney. With Matt Damon being the huge marquee name that's meant to draw people into the film's audience, it's not too surprising that he's taking home more than Chastain is. However, that argument only goes so far, because even with the lower range estimates in play, that's still too big of a gap between the pay of a lead actor and a supporting actor. If you're interested, you can watch the full interview with Jessica Chastain, in the video below.
While the discussion on the gender gap in Hollywood is far from over, Jessica Chastain has shown us that the playing field is far from perfectly informed on just how severe the stakes are. Hopefully, with the continued talk about one of Hollywood's most important hot button issues, a resolution will finally be had - hopefully bring equality closer to a reality in the motion picture industry.
You can see Jessica Chastain in The Martian and Crimson Peak, both of which are currently playing in theaters.
Senior Movies Contributor
CinemaBlend's James Bond (expert). Also versed in Large Scale Aggressors, time travel, and Guillermo del Toro. He fights for The User.
Your Daily Blend of Entertainment News
Thank you for signing up to CinemaBlend. You will receive a verification email shortly.
There was a problem. Please refresh the page and try again.