Weekend Box Office: The Martian Lands A Strong Number One Debut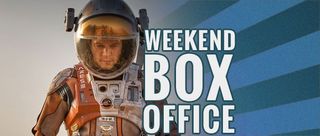 October is known more for horror sequels and second tier animated movies than box office hits, but in the last couple of years top shelf sci-fi entries have started replacing the likes of Jackass 3-D and Paranormal Activity 3 as the month's top openers.
This weekend The Martian joined 2013's Gravity at the top of the October debut chart. With an estimated $55 million The Martian was easily number one this weekend, but fell slightly short of Gravity's $55.7 million opening. There's still a slim chance Martian's final numbers might put it ahead of Gravity when Monday's updates roll out, but even without it the opening is a nice uptick for star Matt Damon and director Ridley Scott.
Damon's last movie to open above $50 million was The Bourne Ultimatum, banking $69 million in 2007. Since then the highest performer he has headlined was Elysium which opened at just $29 million. His highest grossing film since Bourne was True Grit's $171 million, a domestic total that The Martian may have a hard time matching.
The Martian marks Scott's highest opening since Hannibal in 2001, outperforming 2012's Prometheus $51 million debut. The opening is a nice boost after Scott's latest epic, Exodus: Gods and Kings tanked last Christmas.
Hotel Transylvania 2 stayed strong, dropping just 30% from last weekend. It added $33 million to its now $90 million total. The sequel is well ahead of the $76 million its predecessor had banked by this same point in its release.
Robert Zemeckis' The Walk opened in just 450 venues, banking a mediocre $1.5 million over the weekend and just under $2 million since opening on Wednesday. It's not a strong start for a movie that has been getting great critical acclaim. While it widens next weekend, it may struggle to grab audiences going up against Hugh Jackman's Pan opening wide.
For the full weekend top ten, check out the chart below:
1.
The Martian *

$55,000,000Total: $55,000,000LW: N
THTRS: 3,831
2.
Hotel Transylvania 2

$33,000,000Total: $90,541,765LW: 1
THTRS: 3,754
3.
Sicario

$12,075,000Total: $15,076,295LW: 10
THTRS: 2,620
4.
The Intern

$11,620,000Total: $36,523,892LW: 2
THTRS: 3,320
5.
Maze Runner: The Scorch Trials

$7,650,000Total: $63,241,124LW: 3
THTRS: 3,319
6.
Black Mass

$5,905,000Total: $52,521,030LW: 5
THTRS: 2,768
7.
Everest (2015)

$5,510,000Total: $33,181,310LW: 4
THTRS: 3,009
8.
The Visit

$3,950,000Total: $56,921,090LW: 6
THTRS: 2,296
9.
War Room

$2,800,000Total: $60,544,613LW: 8
THTRS: 1,746
10.
The Perfect Guy

$2,400,000Total: $52,615,190LW: 7
THTRS: 1,364
Your Daily Blend of Entertainment News
Thank you for signing up to CinemaBlend. You will receive a verification email shortly.
There was a problem. Please refresh the page and try again.